Betty Garcia-Hill has 19 years of experience in K-12 education, including transitioning the seventh largest district in the United States to online assessment and instruction during the COVID-19 pandemic. But her role in the future of education now exceeds beyond the walls of a classroom. Her true passion has always been to be a voice for both teachers and students, especially those in marginalized communities. As an immigrant and English learner, she experienced first-hand how education is the greatest equalizer. In her current role as a global education technologist at HP, she has been able to continue her career in education advocacy, promote blending learning, and accelerate digital equity. 
You spent almost two decades in Houston ISD, which included one of the most transformative periods in education in recent history—the COVID pandemic. What prompted the switch to your current role at HP?
(BGH): Leading the transformation of Houston ISD to a full online formative assessment was simultaneously one of the greatest challenges and joys of my career. It took the district multiple years to put processes and systems in place to ensure the right infrastructure and framework.  We were fortunate to have made progress prior to the pandemic, so we were ready when schools started closing for extended periods of time.
That said, even with a widely adopted, user-friendly interoperable platform, nothing could have prepared us for the rigor of fully remote assessment for 250,000 students. We relied upon strong professional development, asynchronous options with easy-to-use task cards and videos, and clear communication. Like so many others, we too struggled with our fair share of obstacles. In the end, the lessons we learned and best practices we established were widely shared with other communities as they implemented online assessment.  
When HP asked me to join their team, they raised my awareness of the severity of the state of education and showed me that my experience could be beneficial in tackling global needs and challenges. They helped me to see how my familiarity with scaling sustainable innovation, effective professional development, and interoperable ecosystem could be used to help others.

I am and will always be a teacher at heart. In time, I have come to understand how this identity also enables me to be the ideal advocate. I can lean on my decades of experience in the classroom to help industry leaders develop a deep empathy for the realities and challenges of teaching.
What are the biggest hurdles, accelerators, or tech enablers you're seeing/experiencing for educators and technologists today?
(BGH): As the future of education transitions to a blended learning model, we are seeing exciting accelerators, such as personalization and social and emotional learning, on the rise.
As an educator from a marginalized community who worked closely with transformational schools, the digital divide is what I see as one of the biggest hurdles. UNESCO research shows that 706 million students have no internet at home, and nearly half of the total number of learners kept out of the classroom during COVID-19 closures do not have access to a household computer.
As we move towards educational models that are increasingly reliant on technology, the digital divide has the potential to turn the already existing homework gap into a chasm that will have long term impacts on instruction and intervention for years to come. Many at-risk students and those in rural communities, who were already performing below grade level prior to the pandemic, are often the same students that lack access to hardware, digital literacy, and broadband connectivity. 
In line with the conversation around digital equity, I see untethered broadband connectivity as one of the most significant tech enablers. Today, connectivity is just as important as having access to textbooks or quality instruction. Reliable internet access is necessary to learn, research, create, and collaborate with classmates whenever and wherever learning happens.
How is HP working to solve challenges and improving student outcomes/experiences?
(BGH): HP's stance on digital equity is one of the things that most excites me about my job. Last year, HP announced its commitment to accelerate digital equity for 150 million people by 2030.
Our efforts here are focused on bringing HP hardware, software, and services, as well as digital literacy and connectivity, to women and girls, people with disabilities, historically marginalized communities, and educators and practitioners. Whether it's through partnerships, such as Girl Rising or the Aspen Digital Equity Accelerator, accessible programs like HP LIFE, or innovations like HP Fortis with optional LTE, built rugged for the modern on-the-go student to learn from anywhere with an always-connected device, we are taking a holistic approach to meeting this goal.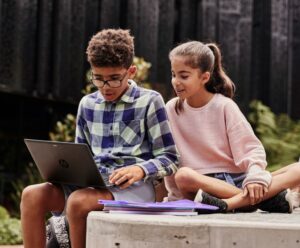 How has the pandemic influenced education's hurdles, accelerators, or tech enablers?
(BGH): While the pandemic exacerbated and drew greater attention to the digital divide, this hurdle existed long before 2020. That said, I am a firm believer that insurmountable challenges are a catalyst for change. It's safe to say that the pandemic has had a significant impact on education's accelerators and tech enablers.
Now more than ever, we are focused on connectivity and its ability to ring in a new era of education. I am excited to see Emergency Connectivity Funds funds, as well as big business partners, align for one common goal: untethered broadband that is widely accessible and can enable learning from anywhere. 
Connectivity will transform education. It will enable every student to have access to classes that may not traditionally be available. Underrepresented populations can have the same level of access to quality resources as their peers to research, unleash their creativity, and find their passion. Students that must work at a young age to support their family can have flexible ways to access instruction when it's opportune for them. Those with medical conditions that are absent from the classroom for extended periods of time can remain connected to their peers and keep up with course content. Classroom walls will no longer be an obstacle for education; learning will be boundless.
What is next for education?
(BGH): As an educational technologist, a former teacher, admin, and advocate of this work, I am optimistic about the journey ahead. This road is not an easy one, but it is an exciting one. We are seeing education and the possibilities transforming right before our very eyes.
This transformation requires us all to do our part. I recognize that my background and experience make me an ideal advocate for fellow educators. It's important that we connect more people like me, advocates bringing these perspectives, with those that have the resources and tools to drive lasting change.
Policymakers, practitioners, and industry providers need to keep equity at the forefront of their practice. We can empower teachers with high-quality professional development and digital tools to work more efficiently so they can spend more time on personalized, hands-on instruction. We have a responsibility to elevate learners, especially those who are disproportionately impacted, with the resources necessary to engage in blended learning and gain vital skills to participate in the digital economy. In doing so, we have the potential to drive better learning outcomes and a brighter collective future.
Author: Stephanie King, Driving K12 Innovation
Thank you Betty Hill-Garcia, Global Education Technologist, HP Global K12 Education Solutions, Gold Sponsor.
CoSN is vendor neutral and does not endorse products or services. Any mention of a specific solution is for contextual purposes.