NEW NAME, SAME PURPOSE
Formerly known as Smart Education Networks by Design (SEND), the Network Design initiative provides schools and districts with resources to help them adapt to shifting and sustainable technologies that support the increasing demands of teaching and learning.
CoSN Network & Systems Design Project Director: Amy McLaughlin, MS, MA, CETL, CISM, CHPS, CDPSE, CISSP, amclaughlin@cosn.org
CoSN staff contact: Jill Brown, MA, Ph.d., Director of Professional Learning, jbrown@cosn.org
The abrupt rise of online learning and reliance on remote access tools forced schools and districts to reconsider and disrupt their existing processes. It is incumbent upon edtech leaders to invest in sustainable and robust school network designs. 
Funding network connectivity, both at physical locations and remote or home locations, for employees and students is a continuous challenge for many organizations. 
The Networking & Systems Design initiative provides recommendations and resources for funding connectivity.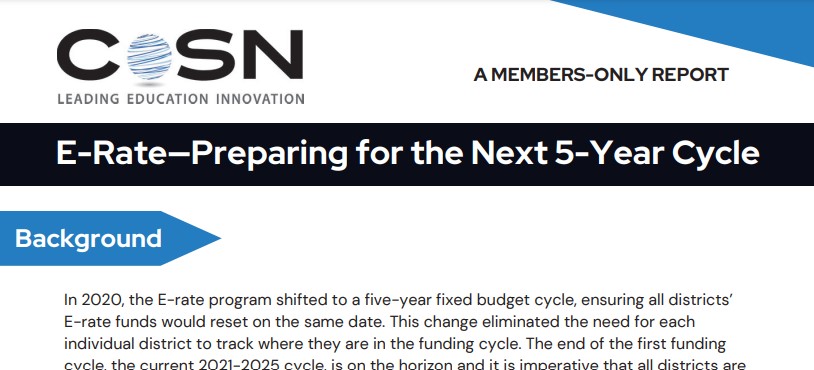 K12 schools that operate in the cloud, primarily use Software-as-a-Service (SaaS) to provide e-mail and other productivity tools, learning management and student information systems, digital content, and other digital learning resources.
Cloud is a part of the Networking & Systems Design initiative and focuses on creating resources to help school and district technology leaders transition from the conventional to IT-as-a-service.
Artificial Intelligence (AI) has the potential to influence practically every aspect of education and society. The Artificial Intelligence (AI) in K-12 report originally released in 2020 has been updated to reflect today's ecosystem. 
Additional resources: https://www.cosn.org/ai/ 
IoT devices offer many opportunities to automate processes within a school system; however, they are not a neutral addition to the organization's technology toolkit. Like other technologies, implementing IoT devices in the district requires careful review and planning to ensure security is correctly architected and in place before implementation, and to implement a plan for supporting and sustaining the IoT devices once implemented.
Launching an Esports program offers new opportunities to expand student engagement and connect students to new opportunities to build their leadership and teamwork skills. A successful program launch will leverage a solid plan and cross organizational commitment. Addressing key issues in the district's plan will support a positive experience for students, staff, and spectators.
Member Exclusive Resources!
WHAT SCHOOL SYSTEM TECH LEADERS NEED TO KNOW

(Please note that you must be logged in to your CoSN member account to view these Member Exclusive Briefs.)
Communicating with District Leadership
Need a ready-to-roll slide deck to discuss network and infrastructure in your district?  Customize and go with this resource.
The modern CTO should be having critical conversations both inside and outside of the organization in order to be effective in a dramatically evolving environment.
Education Networks of America, in collaboration with eLearn Institute and TechEdvantage, white paper that provides insight, considerations and best practices every school district can implement for improving its network security.
Technology leaders and policymakers need to protect their networks and information security, analyze their current status, and validate what they are doing well.