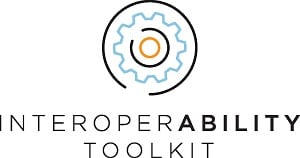 K–12 education institutions are increasingly looking to digital content and related e-learning technologies to meet evolving education needs and goals. 
Technology-based products, services, and resources are making positive impacts on education and are improving efficiency and outcomes in teaching, learning, and classroom and school management. And yet, as educators grow more sophisticated in their use of technology, there are gaps in the integration and interfaces among disparate applications.
CoSN has developed this Interoperability Toolkit to help districts increase the interoperability of their academic and operational systems.
Take the online self-assessment quiz to learn where your district sits on CoSN's Interoperability Maturity Model.
Read how districts are increasing interoperability in their ecosystems and gain insights into what you can do in your district under "Case Studies." School District Leaders are also sharing their personal point of view in the CoSN Blog.
The effort needed to connect siloed systems is expensive and time-consuming
CoSN has two NEW tools to help IT leaders estimate the cost of integrating platforms that were not developed using open standards, into their digital ecosystems.
The spreadsheet template allows for customization while the online question-based tool doesn't require any spreadsheet skills. Both tools can be used as part of the vetting process for a new system or to estimate costs of existing system pairings that are not interoperable.
We hope the ability to generate ballpark estimates will help IT Leaders talk to other education stakeholders and vendors about the impact siloed systems have on their district's budgets.
A Strategic Alignment and ROI Case Study
An eye-opening glimpse into a statewide impact
of siloed systems and their impact on district budgets.
K-12 education hasn't focused on interoperability—the seamless sharing of data content and services among systems and applications. To address this issue, CoSN has created two resources.
The first, an Introduction to Interoperability Standards for Education Leaders, will help district leaders understand why interoperability standards matter.
The second is a primer that covers interoperability governance at the district level and looks ahead with salient questions about using interoperability standards.
Case Studies
The map of interoperability has many possible routes, regardless of where you start your journey.
CoSN interviewed five IT Leaders, representing the various stages of the Interoperability Maturity Model, to learn what paths they took to increase the level of interoperability of their academic and operational systems.
We hope these real-world examples can help you get to where you want to go.
When preparing an RFP for a new classroom or enterprise management system, CoSN recommends that the degree to which the system interoperates with other systems be the main criterion.
To facilitate this effort, CoSN has created a guide for preparing interoperability requirements and communicating your district's needs to providers.
It can be difficult for IT Leaders to explain the importance of interoperability to education leaders who don't have a technology background.
To help address this issue, CoSN has created a flyer designed for superintendents and a slide deck with components that can be imported into your own presentation and customized for any audience.

CoSN is not the only organization providing free resources designed to facilitate meaningful discussions with education stakeholders about interoperability!
Additional resources for explaining interoperability and why it's important: