Funding network connectivity, both at physical locations and remote or home locations, for employees and students is a continuous challenge for many organizations.
The Networking & Systems Design initiative and other CoSN leaders provide some recommendations and resources for funding connectivity below.
Note: You must be logged in to see Member Exclusive resources.*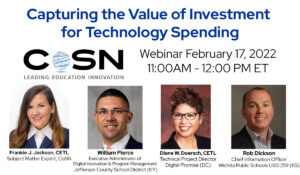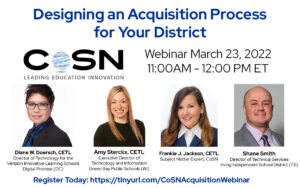 Understanding the complete cost of your computing programs is a key step you must take before you can implement your strategic plan to provide better service for less. Total Cost of Ownership (TCO) is a methodology that allows you to measure and understand the costs of acquiring and maintaining all of your networks, computers, devices, and staff. A TCO assessment helps to set levels for annual budgets, determine the effects of proposed changes in IT staffing or restructuring of operations to migrate to cloud services, or similar projects.
As IT budget levels continue to be challenging, it's more important than ever to carefully evaluate the anticipated costs and benefits of proposed educational technology projects. CoSN provides a methodology and specific tools to allow K-12 districts to estimate the total costs and expected strategic benefits of proposed technology efforts. The Value of Investment (VOI) methodology can help districts evaluate proposed projects, articulate project costs and benefits, sell projects, and sustain projects.