CoSN is a strong presence and voice in the policy debates at the national and state level serving as a champion of policies required to power next-generation learning environments. Our policy agenda focuses on securing robust funding for EdTech, strengthening the E-rate program, protecting the privacy and security of student data, and promoting digital equity. We provide our members with the tools and resources to be successful advocates on these issues. Policy actions are categorized based on CoSN's focus on four key policy issues: E-rate and Broadband Access in Classrooms, EdTech Funding, Privacy and Data Security, and Digital Equity. 
CoSN Staff Contact: Keith Krueger, MPA, CAE, CEO, kkrueger@cosn.org
CoSN Staff Contact: Carla Wade MS, Director of External Relations, cwade@cosn.org
Advocacy Updates on EdTech Legislative Campaigns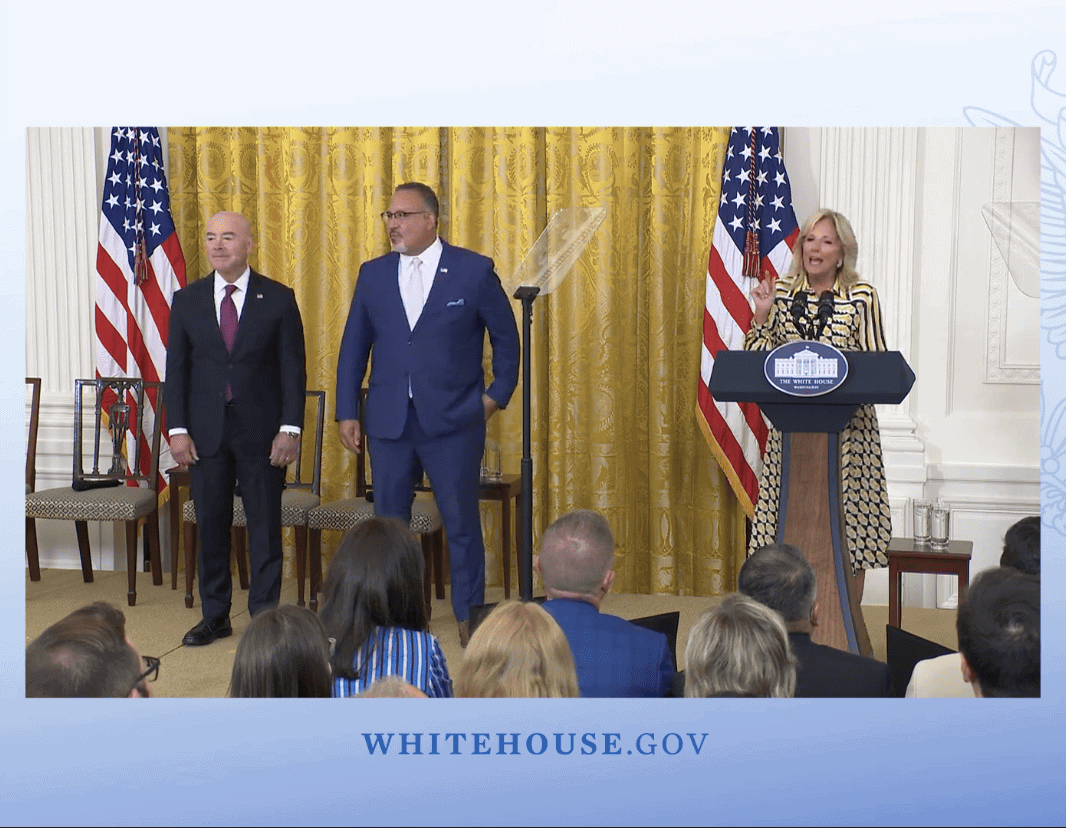 Historic Summit Strengthens Collaboration to Enhance K-12 School Infrastructure and Protect Educational Data
On August 8, 2023, 10:30 AM ET, The White House livestreamed an event, Back to School Safely: Cybersecurity for K-12 Schools. First Lady Jill Biden, Secretary of Education Miguel Cardona, and Secretary of Homeland Security Alejandro Mayorkas, welcomed EdTech leaders and solution providers to share and discuss ways that they, along with federal, state, and local agencies can work together to strengthen K-12 education's cybersecurity infrastructure amidst the growing number of cyberattacks that have targeted schools.
Additionally, the US Department of Education Office of Education Technology released three K-12 Digital Infrastructure Briefs that cover the role of interoperability, cybersecurity, and privacy. These briefs are part of a national effort to create more secure and resilient digital ecosystems.
Tuesday, August 8, 2023: CoSN, the American Library Association, the SHLB Coalition, and several other partner organizations wrote the Federal Communications Commission providing recommendations to inform the anticipated rulemaking for Chairwoman Rosenworcel's proposed school and library cybersecurity pilot. View the letter HERE.
Wednesday, July 12, 2023: Chairwoman FCC's planned E-rate cybersecurity pilot is a powerful first step toward comprehensively modernizing the program's cybersecurity provisions. CoSN greatly appreciates the Chairwoman's decision to respond to the schools' longstanding pleas for help and we appreciate she has listened to our recommendation of a $200 million investment. View the full article here. 
Sign up for CoSN's Ed Tech Advocacy Network Today!

Sign up for CoSN's EdTech Advocacy Network to learn about current policy and advocacy campaigns and to share your expertise with policymakers. The network offers access to CoSN's Phone2Action tool which provides a simple way to contact state and federal legislators about important programs and topics like E-rate, K-12 cybersecurity, privacy, and more.
Phone2Action (P2A)
Text the word "COSN" to 52886. You will receive a link to enroll in CoSN's new Phone2Action advocacy tool by Quorum and connect with your representatives on Capitol Hill.
ENROLL NOW and urge Congress to co-sponsor Rep. Doris Matsui's "Enhancing K-12 Cybersecurity Act."