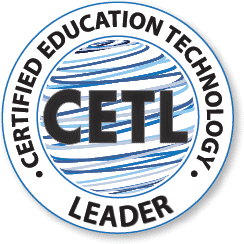 The CETL® program is the only accredited practice-based certification program available to education technology leaders that bridges technical knowledge, understanding of the educational environment, leadership and vision, and the management of technology and support resources needed to integrate technology across the curriculum to advance student outcomes.
The CETL® credential is a true measure of today's education technology leaders, identifying those who have mastered the framework skills and knowledge needed to bring 21st-Century skills to schools. The CETL® program is also a professional development tool that can be used to guide education technology leaders' study of learning technologies. This certification requires satisfaction of eligibility criteria, the passage of a rigorous multiple-choice exam; adherence to a Code of Conduct; and recertification process every three (3) years.
CoSN Director of Certification:  Chelesa Earhart, cearhart@cosn.org
Why get CETL® Certified?
Individuals serving in both the K-12 education sector and the corporate community who have successfully completed the CETL® or participated in CETL® training programs have reported that they have a much greater understanding of the challenges faced by K-12 edtech leaders. These skills have allowed them to deal with the challenges of a constantly changing technology field, including resilience to crises.
To date, over 700 education technology leaders, in school systems and other education organizations around the world and in companies serving those education organizations, have passed this rigorous program and earned their certification. More than half of CETL®-certified educational technology leaders hold cabinet-level positions within their education organizations.
After signing up here, you will receive an email to complete the application and instructions for how to sign up for an exam. This video shows you the process.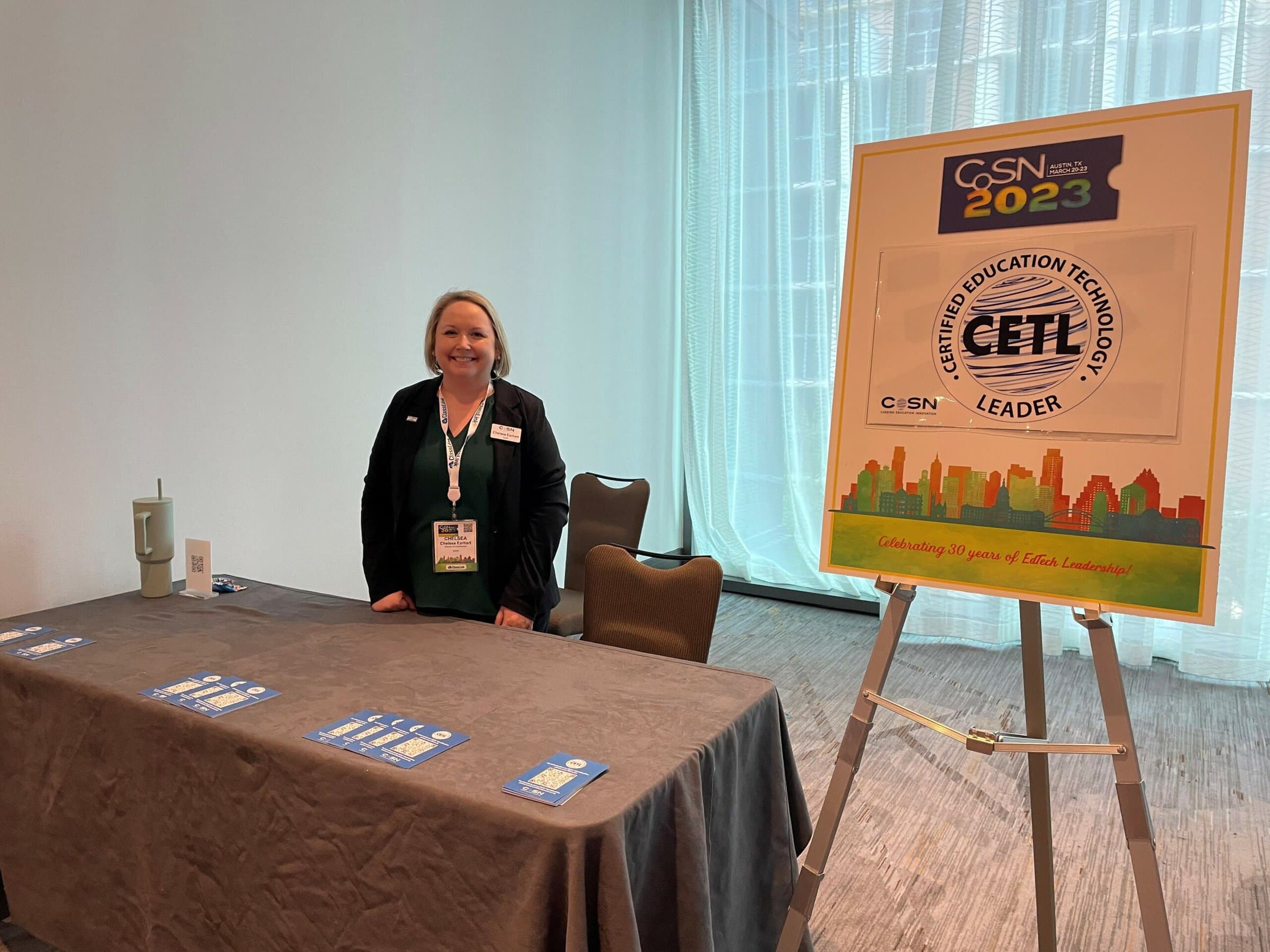 What Organizations
Are Saying
CoSN has worked closely with education organization executives and other stakeholders of education technology leaders to help those stakeholders understand the value and importance of the CETL®. Superintendents and other executives who have encouraged or required that their edtech leaders earn the CETL® credential have reported that:
Edtech leaders with the CETL® credential are consistently the most qualified, skilled, and knowledgeable education technology staff on their team.

Their edtech leaders who have earned the CETL® credential keep their organization current on the latest trends and best practices in education technology.

Supporting their edtech leaders' pursuit of CETL® certification demonstrates a commitment to their employees' professional growth and improves retention and performance.

The technology team's skills are well matched to the job requirements of their positions.
CETL® Accreditation
On 30 April 2020, the National Commission for Certifying Agencies (NCCA) granted accreditation to the Consortium for School Networking (CoSN) Certified Education Technology Leader™ (CETL®) program, for demonstrating compliance with the NCCA Standards for the Accreditation of Certification Programs. NCCA is the accrediting body of the Institute for Credentialing Excellence. The NCCA Standards were created in 1977 and updated in 2016 to ensure certification programs adhere to modern standards of practice for the certification industry.  CoSN joins an elite group of more than 130 organizations representing over 315 programs that have received and maintained NCCA accreditation. More information on the NCCA is available online
"CETL® certification came at a critical time in Utah, as our state legislators continue to wrestle with how to best fund the infrastructure needs for one-to-one as a state. CETL®s have added support and credibility to the excellent group of technologists in districts around the state and the CETL® framework has enhanced our conversations about best practices when implementing one-to-one. CETL® certification has been affirming and empowering for all who have participated in seeking this distinction. With this credential in hand, technology directors, CTOs, and CIOs around the state have reasserted their place at the table in discussing the role of technology in education."
David Long, CETL
Superintendent
Beaver Country School District (Utah)
Graduate Degree Options aligned with the CoSN Framework
Kennesaw State University (KSU) offers fully online Education Specialist (Ed.S) and Doctor of Education (Ed.D.) programs aligned with CoSN's K-12 CTO Framework. These programs are designed for educators who currently hold or aspire to hold a technology leadership position at the school, district, or state level. KSU is a fully accredited university located north of Atlanta, GA, enrolling over 33,000 students.