Award Winners
2023:  NSPRA – National School Public Relations Association
2020: Association of School Business Officials (ASBO) International (VA)
2018: Alliance for Excellent Education, Washington, DC
2015: AASA – The Superintendents Association and National School Boards Association (NSBA)
2014: Education Superhighway
The Partnerships That Matter Award honors partner organizations who work with CoSN in making a difference in transforming learning with technology.
2023 NSPRA – National School Public Relations Association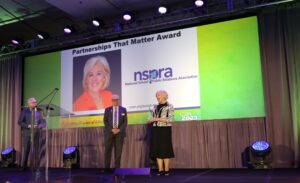 In 2023, CoSN partnered with NSPRA (N-SPRA) on groundbreaking work around social media and education institutions. NSPRA has been a terrific thought-partner on this work. You can read more about this partnership on the CoSN website. The NSPRA team have been generous in supporting this joint effort and have provided critical expertise on how social media is used in school districts and the challenges with lack of verification and a system for educators to report problem posts.