Respondents' Top Technology Pain Points Include Cybersecurity, Interoperability and Home Connectivity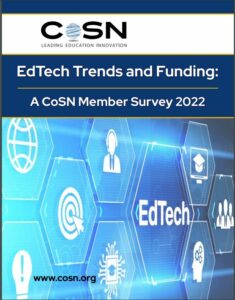 Washington, D.C. (August 23, 2022) – CoSN today released its 2022 EdTech Trends and Funding Survey Report, highlighting that the majority of school district technology leaders reported increasing or similar IT budgets compared to last year, with devices (laptops and tablets) and cybersecurity receiving the most funding. The report, sponsored by Juniper Networks, is based on 222 survey responses from CoSN members who are preparing for the 2022-23 school year.
According to the report, about one-fourth of respondents will be providing hybrid learning options of any type for the 2022-23 school year, leaving the majority of respondents returning to in-person classes. Additionally, cybersecurity, interoperability and home connectivity are the top technology problems among edtech leaders for this school year.
Key findings in CoSN's 2022 EdTech Trends and Funding Survey Report include:
Most CoSN member school systems have returned to pre-pandemic teaching scenarios – 61 percent will not provide any type of hybrid learning this academic year. Only 26 percent are planning to provide hybrid learning options of any type for the 2022-23 school year and the rest don't yet know (as of time of this survey in June 2022). Of the districts who will be offering hybrid learning, the most popular options are a fully remote online academy (61 percent) and simultaneous live and remote classes (53 percent). About one-third (32 percent) will alternate in-person and remote classes on different days, and 14 percent will allow teachers to work remotely.
According to CoSN members, the number one technology "pain point" for school systems is cybersecurity, and the overwhelming majority (83 percent) of respondents work in school systems that will be expanding cybersecurity initiatives.
The majority of respondents (62 percent) report budget increases for cybersecurity – up from 31 percent in 2020.
"We see a marked shift in how school district IT leaders are preparing for this fall. While the majority of districts are not doing any hybrid learning, those districts that are will primarily focus on fully remote virtual academies and simultaneous live and remote classes. Also, the results continue to make the compelling case for more investments in cybersecurity," said Keith Krueger, CEO of CoSN.
"Cybersecurity continues to be one of the top issues facing school districts, alongside interoperability and home access. Schools must protect sensitive data from bad actors by increasing safeguards while simultaneously ensuring that the chosen technology can be inserted into a multivendor network. This level of security should also extend to distance learning environments without burdening IT support staff," said Mike Newcomb, Lead, Vertical Business Development at Juniper Networks.
The full survey results are available exclusively to CoSN members and also cover: challenges faced when implementing hybrid learning, use of federal pandemic funding for technology, sustainability plans, the importance of funding to address the Homework Gap (student home connectivity), as well as overall IT funding trends and key takeaways. CoSN members can download the 2022 CoSN EdTech Trends and Funding Survey Report here.
About CoSN
CoSN (the Consortium for School Networking) is the premier professional association for school system technology leaders. CoSN provides thought leadership resources, community best practices and advocacy tools to help leaders succeed in the digital transformation. CoSN represents over 13 million students in school districts nationwide and continues to grow as a powerful and influential voice in K-12 education. cosn.org
About Juniper Networks
Juniper Networks is dedicated to dramatically simplifying network operations and driving superior experiences for end users. Our solutions deliver industry-leading insight, automation, security and AI to drive real business results. We believe that powering connections will bring us closer together while empowering us all to solve the world's greatest challenges of well-being, sustainability and equality. www.juniper.net
MEDIA CONTACT:
Kate Klimaszewski, kklimaszewski@fratelli.com, 202-822-9491
Published on: Aug 23, 2022
CoSN is vendor neutral and does not endorse products or services. Any mention of a specific solution is for contextual purposes.