October 25, 2022 – CoSN announces its strategic partnership with Speak Up, a national research project and a free service to schools and districts everywhere. As a result of this partnership, CoSN will learn more about the views of our members on the most critical education issues of the day. We urge our members to register today and make plans to complete the survey.
Speak Up is the largest collection of authentic education stakeholder voices: students, parents, teachers, and administrators. Over its twenty-year history, Speak Up annual surveys have gathered the input of over six million participants with its findings used by 30,000 schools. Prepared by nonpartisan data experts, Speak Up:
Informs local decision-making, with a framework for school and district planning to improve teaching and learning and identify challenges.
Provides useful, meaningful, comparative data to participants at no cost.
Participates in the policy discussions at the local, state, and national levels to shape policy.
Addresses timely issues that educators are confronting.
The education landscape has changed dramatically as a result of the pandemic. Students, teachers, parents, and administrators are all adjusting to these changes as they return to school. Now more than ever, Speak Up will provide CoSN with insights into how our members are addressing the key challenges of learning in the current environment and how they are moving forward to give students the best possible opportunities.
Learn more about Speak Up by attending the virtual Speak UP Congressional briefing on October 13, 2022. The briefing will highlight the key data findings from last year's surveys and officially launch Speak Up 2022-23. A panel of students will share their insights on the impact of recent changes and what this means for their future success. Reserve your spot for the briefing by registering today.
CoSN is looking forward to collaborating with Speak Up. We urge our members to join the conversation by registering and taking the survey. Ensure that the voices of our members are heard as we continue the journey to improve our schools and expand learning for all students.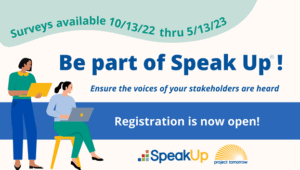 About CoSN
CoSN (the Consortium for School Networking) is the premier professional association for school system technology leaders. CoSN provides thought leadership resources, community best practices, and advocacy tools to help leaders succeed in digital transformation. CoSN represents over 13 million students in school districts nationwide and continues to grow as a powerful and influential voice in K-12 education. cosn.org
About Project Tomorrow
Project Tomorrow is a national education nonprofit group based in Irvine, California.
The vision of Project Tomorrow is to ensure that today's students are well prepared to be tomorrow's innovators, leaders and engaged citizens of the world. We believe that by supporting the innovative uses of science, math, and technology resources in our K-12 schools and communities, students will develop the critical thinking, problem solving, and creativity skills needed to compete and thrive in the 21st century.
We approach our mission by:
Conducting national research projects such as Speak Up.
Facilitating the replication of model projects in schools and communities.
Providing online tools and resources for students, teachers, and parents.
Contributing to the national and regional dialogue about educational issues.