Data Shows Continued At-Home Connectivity Gaps for Students Following Return to In-Person Learning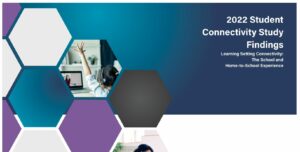 Washington, D.C. (July 14, 2022) – CoSN today released the 2022 Student Home Connectivity Study, a second-year report of a breakthrough study on students' at-home internet connectivity, with a special focus on the home-to-school experience. The study fills a critical need among educators and policymakers for detailed insight on students' learning experiences at home since returning to the classroom.
Seven K-12 urban, suburban and rural school districts from across the United States with approximately 300,000 students participated in the study. Now that most students have returned to their school locations for in-person learning, the study examines how network connectivity has changed. The resulting findings will serve as a guide for school district technology leaders across the United States working to improve online learning equity, especially during after-school hours when students are doing schoolwork from home. Policymakers and educators must not lose sight of the considerable inequities that remain around at-home internet connectivity, especially for at-risk populations.
"Harnessing hard data on real students' experiences during the shift back to the classroom has given us crucial insight into the inequities that remain around at-home internet connectivity," said Keith Krueger, CEO of CoSN. "The Student Home Connectivity Study serves as a key foundational step toward empowering school district technology leaders to address digital equity for students learning from home and closing the Homework Gap."
"The Student Home Connectivity report shows that home access is more important than ever and requires that school and community leaders must ensure all children have equitable access to the valuable resource," said Tom Ryan, Chair of CoSN's Student Connectivity Advisory Committee, CoSN Board Member & Co-Founder of K-12 Strategic Technology Advisory Group. "The way we deliver a quality education depends more than ever on good home internet access. The study shows that students are depending on this resource, yet major gaps stubbornly remain in equity of access."
"The results of the second year of this study has helped us to understand the impacts of our work over the last two years, both from a community perspective as well as at the student level, and confirmed that our work has made a difference in closing the digital divide," said Mark Racine, Chief Information Officer, Boston Public Schools. "The information that this report has provided now gives us the ability to know exactly where to make additional investments and gives us the ability to monitor the impact on each student."
Key findings from the 2022 Student Home Connectivity Study include:
Addressing insufficient home internet connectivity must continue to be a priority for educators and policymakers; although students returned to school, there was more internet traffic outside of school hours than there was during school hours.
Students experience significantly slower network speeds outside of school hours than during school hours.
Students are experiencing slightly improved network performance and faster internet speeds outside of school hours this year (21-22) compared to at home last year (20-21).
There remain ongoing gaps in network performance and internet speeds at all grade levels for students connecting from outside the school, with approximately one-third of high school students experiencing Far Below or Below Guidelines for connectivity from home.
Large disparities persist among student subgroups around home connectivity, particularly by ethnicity and socioeconomically disadvantaged students.
The study aims to address how internet speeds compare during school hours settings versus outside of school hours, whether students are still logging in to school devices and applications outside of school hours, and which focused improvements have been made to ensure greater internet access and connectivity for all students.
The 2021 report was supported by a grant from the Chan Zuckerberg Initiative (CZI) and the 2022 report was supported by Google. The data collection process was developed in partnership with Innive Inc. and overseen by an advisory group of educators, with special thanks to Tableau for their additional help.
Participating districts included:
Beaverton School District (OR)
Boston Public Schools (MA)
Dallas Independent School District (TX)
Fauquier County Public Schools (VA)
MSD of Wayne Township (IN)
Santa Fe Public Schools (NM)
Charles CUSD 303 (IL)
Read the 2022 Student Home Connectivity Study report here and learn more about last year's 2021 Student Home Connectivity Study here.
About CoSN
CoSN (the Consortium for School Networking) is the premier professional association for school system technology leaders. CoSN provides thought leadership resources, community best practices and advocacy tools to help leaders succeed in the digital transformation. CoSN represents over 13 million students in school districts nationwide and continues to grow as a powerful and influential voice in K-12 education. cosn.org
About Innive
Innive is a leading provider of analytics solutions to K12 organizations. Their flagship K12 360 product is used by many districts to provide meaningful management information in areas such as student learning, enrollment, attendance, educational technology and many other areas. k12360.com
About Google
Google is a global technology leader focused on improving the ways people connect with information. Google's innovations in web search and advertising have made its website a top Internet property and its brand one of the most recognized in the world. google.com
About the Chan Zuckerberg Initiative
Founded by Dr. Priscilla Chan and Mark Zuckerberg in 2015, the Chan Zuckerberg Initiative is a new kind of philanthropy that's leveraging technology to help solve some of the world's toughest challenges — from eradicating disease, to improving education, to reforming the criminal justice system. Across our issue areas, we're pairing engineering with grant-making, impact investing, and policy and advocacy work to help build an inclusive, just and healthy future for everyone. For more information, please visit www.chanzuckerberg.com.
MEDIA CONTACT:
Kate Klimaszewski, kklimaszewski@fratelli.com, 202-822-9491
Published on: July 14, 2022
CoSN is vendor neutral and does not endorse products or services. Any mention of a specific solution is for contextual purposes.