Annual CoSN Report Highlights Nationwide Survey Results of Key Trends & Challenges for K-12 IT Leaders
Washington, D.C. (May 22, 2023) – CoSN today released its 2023 State of EdTech Leadership report. The annual survey, which began in 2013, gives school district leaders and policymakers a holistic understanding of the K-12 IT landscape.
This year's report offers unique insight into the challenges that K-12 EdTech leaders have faced over the past year — critical information that will also help CoSN create useful resources to assist school systems in improving learning through technology.
The report was developed based on a national survey of over 1,200 rural, suburban and urban school system leaders. According to the results, districts are modernizing their digital ecosystems; however, the increase in cybersecurity threats, the development of internet of things (IoT) and the speed at which new technologies emerge have created a K-12 technology environment that is drastically different than 10 years ago.
"Our tenth annual survey report highlights the scope and complexity of challenges facing EdTech leaders today. Much has changed since our initial survey in 2013, such as ransomware threats, evolving education network and technologies, and protecting the privacy of student data," said Keith Krueger, CEO of CoSN. "These new responsibilities put increased demands on EdTech leaders and, unfortunately, districts' budgets and capacity have not increased proportionally to meet such ever-growing challenges."
The survey and report were conducted in partnership with MCH Strategic Data, K12 Insight, CDW Education and AASA, The School Superintendents Association. This year's top findings include the following:
1) Over 10 years, the top challenge for EdTech leaders has not changed — budget constraints and lack of resources were ranked the number one challenge in 2013, and 10 years later, it still ranks as the number one challenge.
2) Top priorities have changed. The top three in 2013 were mobile learning, BYOD (bring your own device) and online assessment readiness. This year, cybersecurity tops the list, followed by network infrastructure, data privacy and security.
3) Only a third of EdTech leaders feel their district has sufficient resources to deal with cybersecurity issues.
4) Twelve percent of districts don't allocate any funds for cybersecurity defense.
5) Most districts (66 percent) do not have a full-time cybersecurity position.
6) VOIP (voice over Internet Protocol) is now ubiquitous, with 95 percent of districts having implemented it today as compared to 55 percent in 2013.
7) Fifty-five percent of EdTech leaders come from an education/instructional background, a 10 percent increase since 2013. Those from a technology background currently account for 42 percent.
8) The percentage of EdTech leaders earning $130k or more has tripled over 10 years, from 6 percent in 2013 to 18 percent today.
9) Students are less likely to receive support for off-campus broadband access than in 2021. During the height of remote learning, 95 percent of districts were providing off-campus broadband compared to 74 percent of districts this year.
10) The number one challenge to professional learning is prioritizing the time over other institutional or organizational priorities.
11) Eighty-five percent of districts are implementing Single Sign-On, making it the top interoperability initiative.
CoSN also released the first-ever EdTech Salary Report, an exclusive CoSN member benefit that provides comprehensive insights into salary trends in the K-12 education technology industry. The salary report is based on responses to the 2023 State of EdTech Leadership report. You must be logged in as a CoSN member to access this resource. 
---
"AASA's partnership with CoSN helps to ensure that superintendents and their teams stay knowledgeable about education technology issues and are empowered to support digital learning," said David R. Schuler, Executive Director, AASA. "This tenth year of CoSN's annual survey highlights how district leaders' roles and responsibilities have changed dramatically over time."
---
"K12 Insight is proud to leverage our expert-led research team in helping CoSN uncover the most pertinent issues impacting EdTech leaders," said Suhail Farooqui, CEO, K12 Insight. "With the EdTech landscape evolving rapidly, we are helping many districts understand the interconnectedness of technology platforms, cybersecurity and, ultimately, customer service in relation to their strategic plans."
---
"The insights gleaned from this year's survey are more critical than ever. Notably, the enduring challenge of budget constraints underscores the need for efficient and smart resource utilization in our schools. The increasing importance of cybersecurity and data privacy is another key takeaway that educators and leaders cannot afford to overlook," said Amy Rambo, President, MCH Strategic Data. "As we navigate the shifting landscapes of EdTech, MCH is committed to providing data-driven solutions that aid in these endeavors. We stand with our education community, determined to turn these insights into action for the benefit of our educators and students."
---
To learn more visit: https://www.cosn.org/edtech-topics/state-of-edtech-leadership/.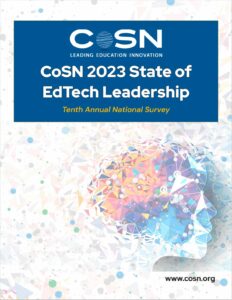 ---
About CoSN
CoSN (the Consortium for School Networking) is the premier professional association for school system technology leaders. CoSN provides thought leadership resources, community best practices and advocacy tools to help leaders succeed in the digital transformation. CoSN represents over 13 million students in school districts nationwide and continues to grow as a powerful and influential voice in K-12 education. cosn.org
About AASA, The School Superintendents Association
AAASA, The School Superintendents Association, founded in 1865, is the professional organization for more than 13,000 educational leaders in the United States and throughout the world. AASA advocates for equitable access for all students to the highest quality public education and supports school system leaders. aasa.org
About CDW Education
Since 1998 CDW Education has supported K12 districts, and today we are a trusted technology partner to more than 90% of K-12 districts nationwide. CDW Education consists of nearly 6,000 co-workers, including technology experts, advanced service delivery engineers, dedicated K-12 account managers, education strategists, and classroom modernization specialists. Our team's experienced educators, technology directors, and superintendents understand the challenges facing districts and are uniquely qualified to partner with you to design, implement and manage your technology initiatives. cdw.com/education
About K12 Insight
K12 Insight partners with school districts to provide better experiences, engagement, and education using a powerful customer experience platform and chatbot, research, and professional development. As a leading innovator of customer intelligence solutions for schools, we've helped over 400 districts across the nation adapt to the digital transformation. We help districts deliver superior customer experiences — which builds trust, promotes family and community engagement, and fosters a positive school environment. K12 Insight offers the only all-in-one, enterprise-wide customer experience and intelligence platform designed for K-12 — helping districts streamline inbound communications, identify problems before they become crises, and build trust capital. k12insight.com
About MCH Strategic Data
MCH Strategic Data is a pioneer and innovator in educational marketing data. For nearly a century MCH has helped businesses reach administrators and educators within school districts nationwide and of all sizes. Trusted by the CDC, National Institutes of Health and Harvard to provide the most up-to-date school district data during the pandemic, they offer national data coverage, invaluable expert insights and top-tier personal service to help clients reach their customers with pinpoint accuracy. mchdata.com
Published: May 22, 2023
MEDIA CONTACT:
Makenzie Carlin, mcarlin@fratelli.com, (703) 967-6954