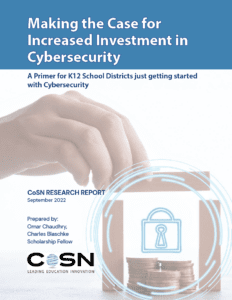 Through the generosity of the Blaschke Fund, we have a new report — Making the Case for Increased Investment in Cybersecurity: A Primer for K12 School Districts just getting started with Cybersecurity. This new primer identifies five actions a school system IT staff can take to better defend IT infrastructure. It is focused on low-cost solutions for districts with minimal resources. The five actions to defend your district are:
Train IT Staff and End Users.
Add Technical Expertise to your IT Team.
Secure the network.
Create a sustainable plan to replace equipment at regular intervals.
Create an environment of certainty for the IT Function with leadership buy-in and reliable funding.
To read more about these solutions, go to our resource library and download the free full report. Be sure to log in to your CoSN account to access this report. Not a member? The report is free, but you must set up a complimentary account.
Omar Chaudhry
Omar Chaudhry is the 2022 Blaschke Fellow who compiled this report. Omar has a B.A. in Management from Marymount University and an M.S. in Cybersecurity from Old Dominion University. He is currently serving as an Information Technology Support Specialist for the National Association of Counties in Washington, DC.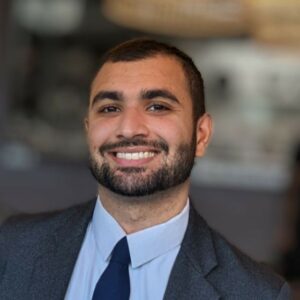 About CoSN
CoSN (Consortium for School Networking) is the premier professional association for K-12 school system technology leaders. CoSN provides thought leadership resources, community best practices and advocacy tools to help leaders succeed in the digital transformation. Today, CoSN represents over 13 million students in U.S. School systems/districts and continues to grow as a powerful and influential voice in K-12 education.
Blaschke Fellowship Fund
The Blaschke Fund was created in 2019 to support emerging leaders in education technology policy and advocacy. The memorial fund honors the late Charles Blaschke, who conducted pioneering research and analysis on the ever-changing U.S. education landscape for over 50 years. The Blaschke fellowship is designed to give graduate students in public policy and/or education an opportunity to work with CoSN on education policy projects. Priority is given to initiatives focused on national education technology issues, such as funding, legislation and/or policies. Policies could include ensuring digital equity, protecting privacy of education data, enabling accessibility or other key topics.
MEDIA CONTACT:
Kate Klimaszewski, kklimaszewski@fratelli.com, 202-822-9491
Published on: Sept 28, 2022
CoSN is vendor neutral and does not endorse products or services. Any mention of a specific solution is for contextual purposes.