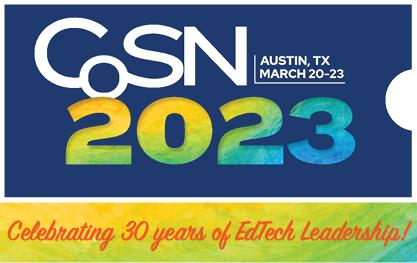 Reimagine. Redesign. Renew.
Our learners and leaders have experienced a disruption over the last three years that continues to challenge our traditional educational system. As we are emerging into a new era of learning, wherein many schools have significantly increased their digital footprint, we as educational leaders need to Reimagine what schooling could be. We should Redesign education to ensure equitable learning for ALL children. And we should Renew our commitment to advancing digital learning. Let these Three "R's" serve as our collective Call to Action! 
Join us for the EdTech conference of the year at CoSN2023!
March 20 - 23, 2023
Austin Marriott Downtown
Austin, Texas
CoSN2023 Registration Information
Attendee Registration
Attendee registration is open! Make sure to register before TODAY, November 30, 2022 to receive the Early Bird discounted pricing (Early Bird Pricing applies only to educator registration. To view conference registration pricing, please visit the CoSN2023 Registration Fee Page to determine the best option for you or your team. Please note, registration pricing is different for Members and Non-Members. If you would like more information on how to become a CoSN member and the benefits of membership, please email membership@cosn.org. To register for CoSN2023, click the button below!
Early Bird Registration ends November 30, 2022. Make sure to register ASAP to receive discounted registration rates!
Exhibitor Registration
CoSN2023 Exhibitor Registration is live! In order to register for an Exhibit space, your company must be a CoSN member in active status. If your company is not a CoSN member, please email membership@cosn.org to join. CoSN Corporate members looking to register for an Exhibit space at CoSN2023 will have two booth options to choose from: Basic and Premium. Click here to view our booth options. To view the details of these packages, please click here. For information about sponsorship or questions on exhibiting at CoSN2023, please email sponsorship@cosn.org.
SNEAK PEEK! Check out our Opening and Closing Keynote speakers below and the Schedule at a Glance. As our program continues to develop we will be sending out information on speakers, sessions, and events to keep you up to date on what to expect in Austin!
CoSN2023 Policies and Information
Thank you so much to our Diamond Sponsors