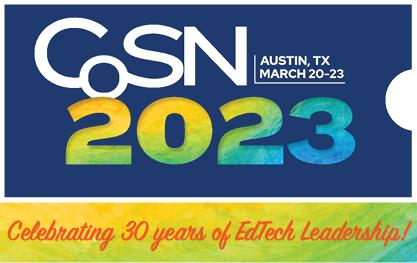 Reimagine. Redesign. Renew.
Our learners and leaders have experienced a disruption over the last three years that continues to challenge our traditional educational system. As we are emerging into a new era of learning, wherein many schools have significantly increased their digital footprint, we, as educational leaders need to Reimagine what schooling could be. We should Redesign education to ensure equitable learning for ALL children. And we should Renew our commitment to advancing digital learning. Let these Three "R's" serve as our collective Call to Action! 
NEW RELEASE: The CoSN2023 Advocacy Virtual Happy Hour launched our CoSN2023 Advocacy Silent Auction. We celebrated our 30th anniversary with fun, trivia, music, and a great time. The CoSN Advocacy Silent Auction is now open so bid on your favorite items. To access the Silent Auction, TEXT Cosn2023 to 243725. Visit our Silent Auction page for information on how to bid. Get your bids in NOW!
CoSN 30th Anniversary Historical Timeline: For 30 years, CoSN has been a powerful advocate for the K-12 EdTech community. View the CoSN 30th Anniversary Historical Timeline and take a trip down memory lane to see all of the important moments in CoSN history.
DON'T MISS OUT ON THE SWAG! With CoSN2023 just weeks away, don't miss your chance to visit the CoSN Online Store to purchase your CoSN apparel and show off your CoSN look to your peers. Our store features CoSN t-shirts, sweatshirts, hoodies, hats, and our special 30th anniversary edition merchandise.
CoSN2023 Registration Information
Attendee Registration
To view conference registration pricing, please visit the CoSN2023 Registration Fee Page to determine the best option for you or your team. Please note, registration pricing is different for Members and Non-Members. If you would like more information on how to become a CoSN member and the benefits of membership, please email membership@cosn.org. Register for CoSN2023 below.
Exhibitor Registration
Exhibit booths for CoSN2023 are SOLD OUT. For information on sponsorship or questions on exhibiting at CoSN2023, please email sponsorship@cosn.org.
Unable to attend in person? Register for CoSN2023's Virtual Program, which will have over 30 live-streamed and pre-recorded education sessions. There will also be an interactive and fun event designed for Virtual Program registrants. All CoSN2023 registrants will be able to access the recorded, live-streamed and pre-recorded sessions, until December 31, 2023.
*Unfortunately, rooms in the group block at the Austin Marriott Downtown and the JW Marriott are SOLD OUT. 
The Hampton Inn & Suites Downtown Austin/Convention Center has been established as an additional overflow hotel for CoSN2023.
See the Hotel, FAQ's, and Other Conference Information below for more information and to make reservations.
Thank you to our Diamond Sponsors!