CETL Summit and Happy Hour
Saturday, April 6, 2024
2:00-5:00 p.m.
$75 to attend the Summit Only / $125 to attend the Summit and Happy Hour / $50 to attend the Happy Hour Only.
The CETL Summit is an in-depth, interactive and dynamic problem-solving session. The Summit will start with an engaging keynote speaker. After the keynote, CETLs will engage in real-time problem solving and brainstorming with other CETLs from all over the country, about topics that matter to you. This half-day session provides CETLs the opportunity to engage, network, and learn from peers. 
The CETL Dinner will be a casual, networking dinner in Miami the evening before the CETL Summit.
Saturday, April 6, 2024
Location: Puttshack Miami
$50 Registration Fee
Join registrants of the CETL Summit for a casual, networking Happy Hour event in Miami after the CETL Summit. This time will allow you to meet and get to know other CETL's and fellow summit attendees.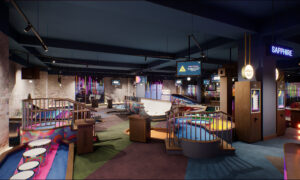 Sunday, April 7, 2024
12:00 p.m. - 4:30 p.m.
No fee for Members, $99 for Non-members (Includes lunch)
Large school districts face unique challenges, and this session is designed for those Large District Ed Tech Leaders. The educational landscape continues to change. We need the best and most creative minds to help pave the way for thought leadership to incubate and drive innovative practices as we move forward. This session will give you, the large district leader, the time and space to discuss your current challenges and brainstorm solutions with your colleagues. (This event is intended only for Large and Mega Large districts: 25,000 or more students. Additional registration fee for non members required. Includes lunch.)
Sponsored by:  Classlink, Logitech, Parent Square
Small and Rural District Conversations
Sunday, April 7, 2024
12:30 p.m. - 4:30 p.m.
No fee for Members, $99 for Non-members. (Includes Lunch)
Small and rural districts face challenges due to their size and remote locations. CoSN is working with small and rural district EdTech leaders to help them to meet these challenges successfully.  Join us in a conversation about priorities and strategies when you have limited time and resources. You will walk away with knowledge and tips and gain a network of other small and rural leaders. (Additional registration fee for non members required)
Sponsored by:  Classlink
State Chapter Leaders' Meeting
Sunday, April 7, 2024
12:00-4:30 p.m.
$99 registration fee.
Join us for a deep dive into how to engage members in your chapter and draw in new members. Much has changed in associations and chapters, and by adapting and innovating we can leverage these changes to grow CoSN's chapters. This session will provide tangible takeaways, resources on next steps, and engaging discussion. As a hands-on workshop, you'll have the opportunity to build your member engagement strategy. Session includes lunch with the CoSN Board.
Sponsored by: CDW, Parent Square
Women in Technology Breakfast Summit
Monday, April 8, 2024
8:00 a.m. - 10:00 a.m.
$25 Registration fee/Breakfast included
CoSN is committed to engaging in dialogues across diverse perspectives within the K-12 EdTech field, to develop and promote strategies that achieve diversity, advance equity, strengthen inclusion and promote a feeling of belonging. The number of women-in-tech events has been increasing year over year, further highlighting the importance of a more inclusive culture. You are invited to our Women in Technology Breakfast Summit to celebrate female leadership in the field of educational technology. We'll share information from our CoSN survey, discuss recent statistics in EdTech leadership and plans for supporting female leaders, and gather your feedback and suggestions. We hope you will join us! Facilitated by CoSN's Diversity, Equity, and Inclusion Steering Committee.
Sponsored by: Classlink, CDW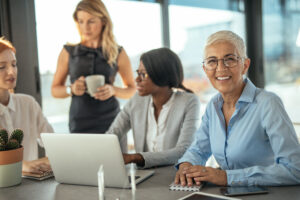 First -Time Educator Briefing
Monday, April 8, 2024
10:00 a.m. - 10:30 a.m.
No fee to attend
Navigating CoSN2024: A First Time Educator Attendee Briefing
If you're attending the CoSN annual conference for the first time, this session is designed just for you! Join us to kickstart your conference experience with valuable insights and tips.
In this briefing, we'll cover:
Navigating the conference

effectively

How

to

connect

with

fellow

attendees

Making the most of the EdTech Exchange and learning about the latest educational technology solutions
Q&A session to address any queries you have about the

conference
The Network Meet-Up: Diversity, Equity, and Inclusion Networking Event
Monday, April 8, 2024
10:15 a.m. - 12:15 p.m.
No fee to attend
Are you interested in helping to build systemic change for the inclusion of all populations in the field of EdTech but don't know where to start? Come and join us for our third annual CoSN Diversity, Equity, and Inclusion Meet-up to network and discuss how we can make the field of educational technology one of inclusion and belonging!
Corporate Council Meeting
Monday, April 8, 2024
11:00 a.m. - 12:00 p.m.
No fee/Registration required
CoSN Corporate members, sponsors and other companies interested in learning more about the power of partnership with CoSN are encouraged to send a representative or two to this meeting. CoSN's CEO, Project Directors, and CoSN Partners will discuss current CoSN projects and provide a glimpse of the exciting work on the horizon and opportunities for your company's participation.
Early Career and Aspiring EdTech Leader Workshop
Monday, April 8, 2024
1:00 p.m. - 2:00 p.m.
No fee/Registration required
Surveys indicate that the exodus of veteran CTOs from education will continue. Shoes must be filled! However, it is difficult to "step in" without a deep dive into the essential skills and thoughtful mentoring. Join us to better understand how to provide cohort-based leadership development for K-12 leaders. Hear about some strategies that build essential knowledge, and develop collaboration through mentoring and leadership experiences for aspiring and early career K-12 technology leaders.
CoSN EdTech Advocacy Fundraiser & Auction
Monday, April 8, 2024
6:00 p.m. - 8:00 p.m.
$125 per person until 11/30/23; $150 until 1/31/23; $175 after 1/31/23
CoSN works at the federal level for education technology policy formation and implementation. We are involved in the discussions that impact school systems and districts, and the learners they serve. We address key education issues including increasing funding and improved administration of the E-Rate program, making the case for investment in education technology, and monitoring privacy legislation. We are also expanding our advocacy efforts at the state level. This Fundraiser & Auction raises the monies needed to conduct CoSN's advocacy efforts throughout the year with your generous support. Help us amplify your voice in support of ensuring equitable education technology for every student.
Sponsored by: Classlink, Funds for Learning
Teaming for Transformation: Generative AI Readiness Summit
Tuesday, April 9, 2024
8:00 a.m. - 10:00 a.m.
No fee to attend/Team Registration required
Join us for a collaborative learning experience at the Teaming for Transformation Summit - a dynamic event designed around the topic of AI for district Superintendents and their key team members including CIO, CTO, CAO and other leaders. This event is your gateway to the latest resources and insights on generative AI, equipping your district with the knowledge and strategies needed to harness the power of AI for safe and effective learning.
Don't miss out! Register your team today to embark on this transformative journey together. Please note, individual registrations will not be accepted; you must register along with at least one additional team member. Best of all, it's free for teams registered for CoSN2024! Don't miss out on this exclusive opportunity for growth and innovation. For more information on how to register, please email Registration@cosn.org.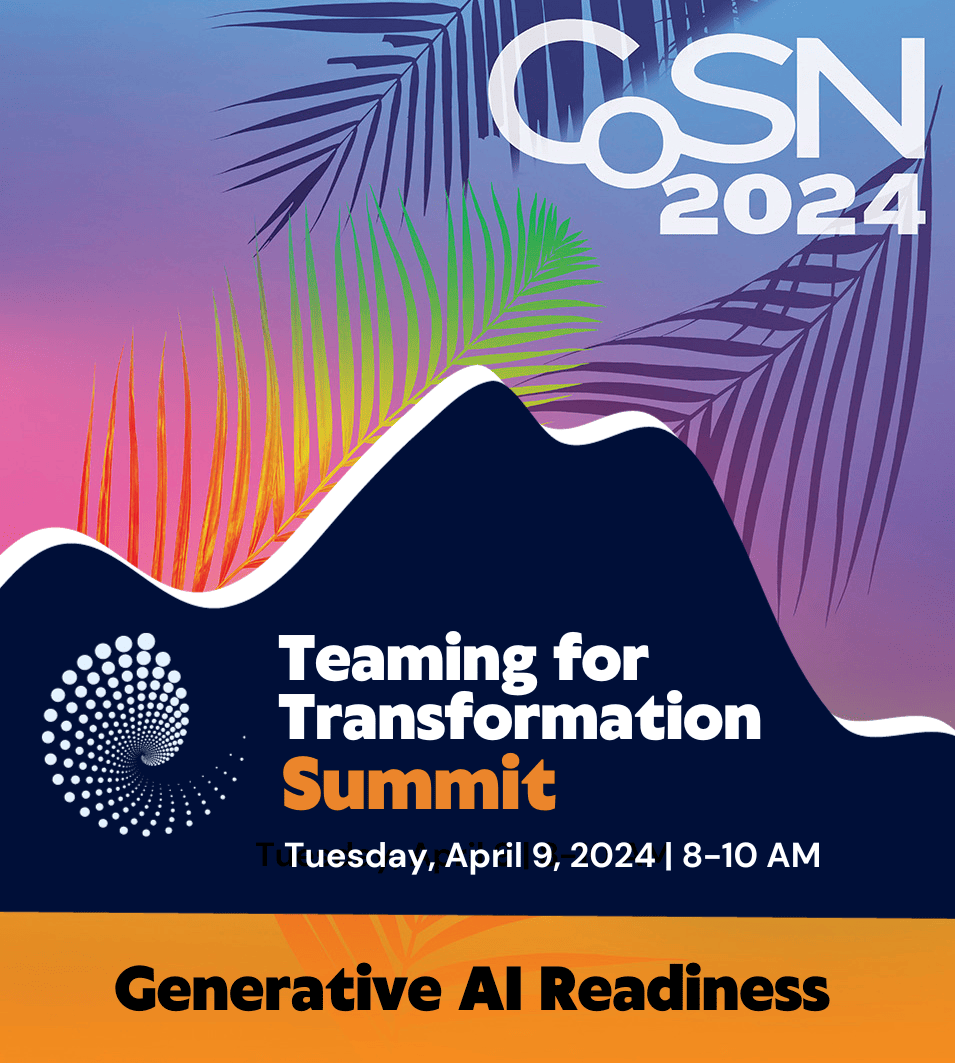 Where Are We in the Struggle for Equality for LGBTQ+ Reception
Tuesday, April 9, 2024
4:30 - 5:30 p.m. / 5:30 - 6:30 p.m.
No fee/ Registration required
What progress have we made for the rights of LGBTQ+ education technology leaders at work? What work remains for our community and our allies, and how can we provide better support? Join us during the CoSN conference for this free meetup to discuss your ideas and experiences. LGBTQ+ & Allies Welcome.
Sponsored by: Clever
Wednesday, April 10, 2024
Wednesday, April 10, 2024
8:00 a.m. - 9:30 a.m.
No fee/Members Only
The CTO Forum is a member-only event where districts take a deep dive into the critical issues they face. They share challenges, best practices, and specific strategies to ensure that the learners and their families are effectively served. Roundtable discussions give participants opportunities to discuss their local challenges and strategies and learn from other districts working to address the same challenges. At the end of the session, participants leave with practical solutions and knowledge of the CoSN resources that are available to help them improve their systems. The focus for CoSN2024 is Learning Continuity Planning.
Sponsored by: Classlink
Allyship for Underrepresented IT Leaders
Wednesday, April 10, 2024
10:40 a.m. - 11:45 a.m.
No fee
Research shows that when men are deliberately engaged in gender-inclusion programs. Ninety percent of women in those organizations perceive real progress in gender equality, compared with only thirty percent of women in organizations without strong male engagement. Attend this session to learn about the crucial role men play in the advancement of women in the workplace. We will discuss how men are the equalizer in the workforce by simply being an ally to women while at work. Learn how men can partner with their female colleagues to advance women's leadership and equity by breaking down stereotypical, culturally biased barriers.
First Time Corporate Attendee Briefing
Wednesday, April 10, 2024
10:00 a.m. - 10:30 a.m.
No fee/Registration required
Corporate members, sponsors and companies interested in learning about the power of partnership with CoSN are encouraged to send a representative to this briefing. CoSN's CEO, along with CoSN's Project Directors, and Partners will discuss CoSN projects and provide a glimpse of the exciting work on the horizon and opportunities for corporate member participation and additional exposure for Partners and companies.
Inclusive EdTech Leadership Summit Facilitated by Ken Shelton
Wednesday, April 10, 2024
5:00 p.m. - 6:30 p.m.
$99 Registration fee/Reception to follow
The Inclusive EdTech Leader Summit is a unique and empowering gathering, designed to foster a vibrant and supportive community for underrepresented EdTech leaders and their mentors. Here, we open doors to mentorship, coaching, and a wealth of career advancement insights.
We are thrilled to have Ken Shelton facilitate this session. Ken's extensive expertise in education, technology, and diversity ensures attendees will gain valuable insights. Moreover, Ken provides practical strategies that attendees can immediately apply in their work, contributing to professional growth.
The Summit will offer networking opportunities with influential professionals, and leave you motivated and inspired. Find your diverse Ed Tech Leader community where you are supported and connected. Imagine a place where innovation meets diversity, where your journey is celebrated and your aspirations are fueled.
The Inclusive EdTech Leadership Summit is more than an event; it's an ecosystem of collaboration and growth. This is your opportunity to connect, learn, and thrive – a summit like no other, dedicated to YOUR success, whether you're an emerging leader or a seasoned professional.
Proactive Disaster Preparedness: Ensuring IT Resilience and Readiness Summit Facilitated by Lenny Schad, District Administration Leadership Institute
Thursday, April 11, 2024
9:00 a.m. - 11:00 a.m.
$99 per person/Breakfast included
Understanding recovery is essential, but true resilience lies in proactive preparedness and readiness before the disaster even occurs. In this session, we will delve deep into the action items essential for safeguarding your IT infrastructure before a disaster strikes. Whether you're looking to enhance your existing knowledge or establish a robust foundation, this workshop ensures the safety, security, and continuity of your operations. Discover how to transition from reactive measures to a proactive strategy. Regardless of your attendance at the "Disaster Recovery Experience" Workshop, this Summit is an indispensable experience for all K-12 IT leaders and their teams.
Participants will:
Understand

the

full

spectrum

of

potential

threats,

both

natural

and

man-made.

Learn the essentials of risk assessment, pinpointing crucial assets and

infrastructure.

Acquire actionable strategies to fortify your IT environment against unforeseen

events.

Engage with a curated list of tools and resources to bolster your Disaster Recovery and

Business

Continuity

Plans.