Are you interested in achieving the Certified Education Technology Leader (CETL®) certification? The CETL® Foundation Course teaches you the fundamental principles of CoSN's Framework of Essential Skills – the basis of the nationally-accredited CETL® certification.
If you would like to be in a collaborative and supportive cohort to study for the CETL® certification exam, the CETL® Foundation Course is for you!
The Spring 2022 second cohort meets for 11 meetings between Feb – May, 2022 7-8:30 PM ET on Thursdays and is facilitated by experienced CETL® certified edtech leaders.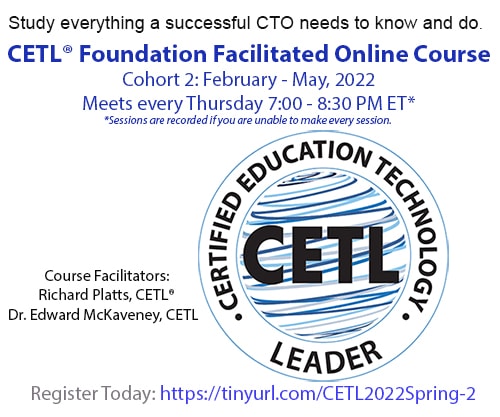 2/17 Introduction
2/24 Skill Area 1: Leadership and Vision
3/3 Skill Area 2: Strategic Planning
3/10 Skill Area 3: Ethics and Policies|
Open Week
3/24 Skill Area 4: Instructional Focus and Professional Development
3/31 Skill Area 5: Team Building and Staffing
4/7 Skill Area 6: Information Technology Management
Open Week – CoSN 2022
4/21 Skill Area 7: Communication Systems Management
4/28 Skill Area 8: Business Management
5/5 Skill Area 9: Data Management
5/12 Skill  Area 10: Data Privacy and Security
Read more about the instructors Richard Platts and Dr. Edward McKaveney.
Educator Member $599; Non-Member $799
Corporate Member $799; Non-Member $999
For group discounts, contact Dr. Jill Brown, jbrown@cosn.org, Senior Manager of Professional Advancement
Be sure to follow us on Twitter @CoSN and LinkedIn to stay updated on CoSN events!