This course is FULL, please regiser for the waitlist in the event a spot opens up or we create a second session. If there are no options this spring, we will add you to the summer section.
Are you interested in achieving the Certified Education Technology Leader (CETL®) certification? The CETL® Foundation Course teaches you the fundamental principles of CoSN's Framework of Essential Skills – the basis of the nationally-accredited CETL® certification.
If you would like to be in a collaborative and supportive cohort to study for the CETL® certification exam, the CETL® Foundation Course is for you!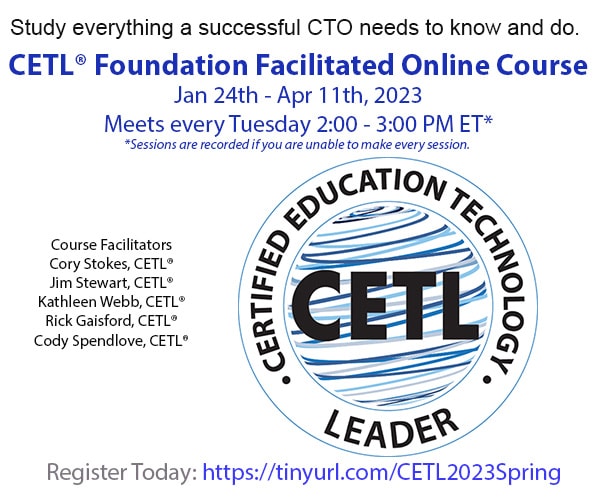 The Spring 2023 class meets once a week from January 24th, 2023 – April 11th, 2023 2:00- 3:00 PM ET on Tuesdays.
1/24 Introduction
1/31 Skill Area 1: Leadership and Vision
2/7 Skill Area 2: Strategic Planning
2/14 Skill Area 3: Ethics and Policies
2/21 Skill Area 4: Instructional Focus and Professional Development
2/28 Skill Area 5: Team Building and Staffing
3/7 Skill Area 6: Information Technology Management
3/14 Skill Area 7: Communication Systems Management
3/21 Skill Area 8: Business Management
3/28 Open CoSN 2023 Conference in Austin and Virtual
4/4 Skill Area 9: Data Management
4/11 Skill  Area 10: Data Privacy and Security
Read the course syllabus for more information on timeline and the 11 modules of the course.
Read more about instructor Cory Stokes here.
-Sessions are recorded if you are unable to make an individual session.
-If there are spaces available, participants may start the course within the first two weeks and catch up. 
Early Bird pricing  – Educator: Members $649 Non-Members $849; Corporate: Members: $849 Non-Members $1049
Standard pricing (2 weeks before the workshop begins) – Educator: Members $699 Non-Members $899; Corporate: Members $899 Non-Members $1099
Bulk pricing for same organization registration – 1-4 10% discount, 5-10 15% discount, 11+ 25% discount
-Bulk pricing discounts won't show up until checkout.
Be sure to follow us on Twitter @CoSN and LinkedIn to stay updated on CoSN events!