Meets online every *Wednesday from 3:00 PM-4:00 PM ET October 12th – December 14, 2022
*Sessions are recorded if you are unable to attend on a particular day. 
What can the information technology professional do to secure school systems' information infrastructure? CoSN has designed an online course focusing on enterprise security issues for school technology staff. Learn the fundamentals of IT security and provide advanced persistent protection for your students' information.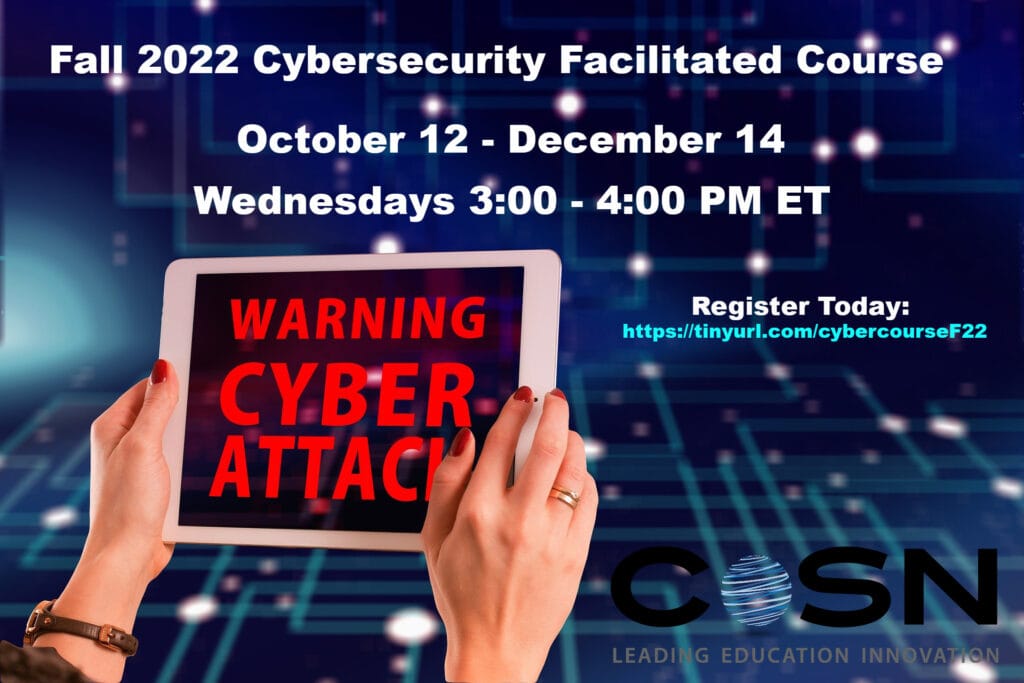 This seven-week facilitated online course will help IT staff learn the fundamentals of IT security and improve their understanding of enterprise security issues.  The content is comprised of three modules – 1) Network Security, 2) Risks and Controls, and 3) Vulnerabilities and Mitigation. There are also to-do activities such as reflection questions and extending your learning as well as summative assessments after each module. Improve your cybersecurity knowledge today!
Early Bird pricing – Educator: Members $549 Non-Members $749; Corporate: Members: $749 Non-Members $949
Standard pricing (2 weeks before the course begins) – Educator: Members $599 Non-Members $799; Corporate: Members: $799 Non-Members $999
Bulk pricing for same organization registration – 2-4 10% discount, 5-10 15% discount, 11+ 25% discount
*If you want to buy several professional development courses or workshops at the same time for use throughout the year, please contact jbrown@cosn.org for options.
Participants successfully completing the course will receive a Certificate of Completion, earn 9 CEA Credits toward CETL® recertification and have access to the course materials for one full year.
This course is regularly updated with current information by our subject matter expert and instructor, Amy McLaughlin. Read more about Amy here and here on LinkedIn.
Payment is due within 14 days of the start of the course. We understand some districts take longer to provide payment, so if you need an extension, please contact jbrown@cosn.org. Be sure to follow us on Twitter @CoSN and LinkedIn to stay updated on CoSN events!