Building and strengthening cybersecurity in a district requires both a solid security plan and an effective incident response plan. This workshop walks attendees through the development of both proactive security plans to support district improvement and maintenance of cybersecurity efforts, and incident response plans to guide response during a security incident or emergency.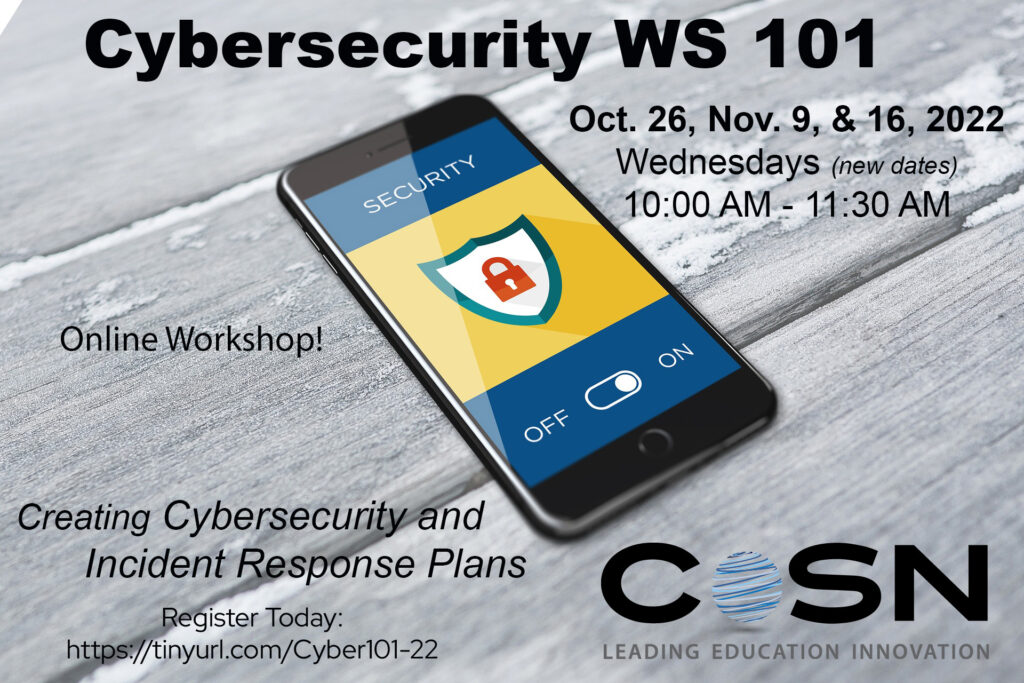 Meets from 10:00 AM -11:30 AM ET for three-days on Oct. 26, Nov. 9, & 16, 2022
Every day, 3 occurrence(s)
*Note: Everyone who registers will be emailed a recording of the sessions.
Wednesdays
Oct. 26, 2022 10:00 AM – 11:30 AM ET
Nov. 9, 2022 10:00 AM – 11:30 AM ET
Nov. 16, 2022 10:00 AM – 11:30 AM ET (new date)
Early Bird Pricing – Educator: Members $70 Non-Members $115; Corporate: Members: $120 Non-Members $220
Standard pricing (2 weeks before the workshop begins) – Educator: Members $75 Non-Members $125; Corporate: Members: $150 Non-Members $250
Bulk pricing for same organization registration – 2-4 10% discount, 5-10 15% discount, 11+ 25% discount
-Bulk pricing discounts won't show up until checkout.
This workshop is only a training for our constituents.  The workshop has a couple of sponsors, however, those are the only members of the vendor community who will be part of the workshop.
Be sure to follow us on Twitter @CoSN and LinkedIn to stay updated on CoSN events!
You are eligible for 7.5 CEA hours for CETL® recertification if you attend all three days.