Cybersecurity Online Workshop 401: Planning & Running Tabletop Incident Response Exercises
*This workshop is full. Consider these summer options:
Insider Threat: Employee – Incident Response Workshop #1 July 19, 20, 21 Register Today
Insider Threat: Student – Incident Response Workshop #2 August 2, 3, 4 Register Today
External Thread: System Infiltration – Incident Response  Workshop #3 August 16, 17, 18 Register Today
Bring your team! What is the topic of the exercise? We can't tell you, or it would be an exercise, but it will be something your school/district needs to be ready to respond to.
This is a great opportunity to do some training with your team and fine-tune your procedures.
This experience will guide schools/districts in expanding their ability to execute incident response, including remote incident response, by learning how to train and practice response scenarios within their school/districts.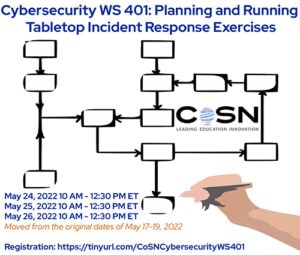 Meets from 10:00 AM -12:30 PM ET for three days May 24-26, 2022 (Moved from original dates: May 17-19, 2022)
May 24, 2022 10 AM – 12:30 PM ET
May 25, 2022 10 AM – 12:30 PM ET
May 26, 2022 10 AM – 12:30 PM ET
This workshop is facilitated by Amy McLaughlin. Read more about Amy here and here on LinkedIn.
Member price: $75
Non-member price: $125
Are you looking to register 10 or more staff? Then, contact jbrown@cosn.org for a 20% group discount.
Be sure to follow us on Twitter @CoSN and LinkedIn to stay updated on CoSN events!
You are eligible for 7.5 CEA hours for CETL® recertification if you attend all three days.