Building and strengthening cybersecurity in a district requires both a solid security plan and an effective incident response plan. This workshop walks attendees through the development of both proactive security plans to support district improvement and maintenance of cybersecurity efforts, and incident response plans to guide response during a security incident or emergency.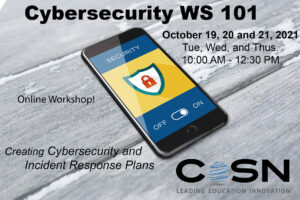 Meets from 10:00 AM -12:30 PM ET for three days on October, 19th, 20th, and 21st.
Oct 19, 2021 10:00 AM – 12:30 PM ET
Oct 20, 2021 10:00 AM – 12:30 PM ET
Oct 21, 2020 10:00 AM – 12:30 PM ET
Be sure to follow us on Twitter @CoSN and LinkedIn to stay updated on CoSN events!
You are eligible for 7.5 CEA hours for CETL® recertification if you attend all three days.