Join this interactive discussion as the panelists discuss the critical elements of equitable digital learning opportunities including access to quality broadband access, devices, tools and instructional materials to support all learners.  Simply providing access to broadband and a device is just one step to digital equity.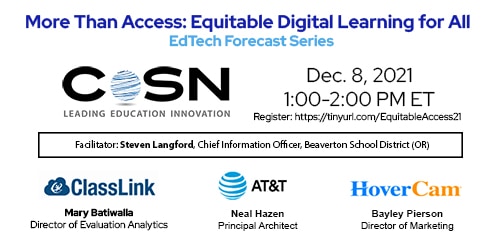 Facilitator: Steve Langford, CIO, Beaverton Public Schools (OR)
Panelists: 
Mary Batiwalla, Director of Evaluation Analytics, ClassLink
Neal Hazen, Principal Architect, ATT
Bayley Pierson, Director of Marketing, Hovercam
Be sure to follow us on Twitter @CoSN and LinkedIn to stay updated on CoSN events!