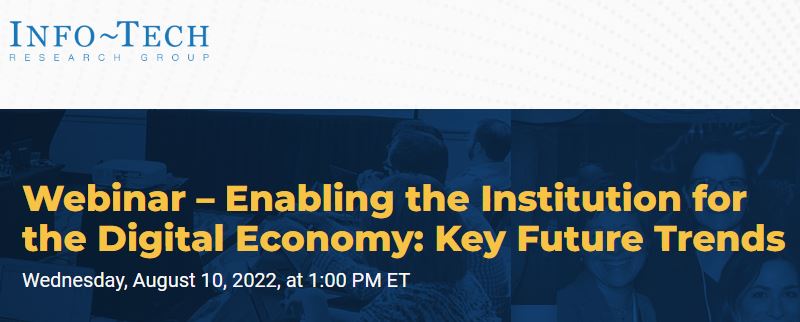 Info-Tech is proud to partner with CoSN to bring its members valuable resources designed to help tackle the latest challenges facing IT departments.  To address the ever-changing landscape of IT in K-12 education, Info-Tech Research Group is pleased to bring you a webinar on Enabling the Institution for the Digital Economy: Key Future Trends.
The world now depends on the digital economy. IT is central to the institution's successful response and there are four pillars of strength required: recoding the institutional DNA, treating security as survival, responding to the new relationship with work, and reducing the bureaucratic burden.
In this webinar we will focus on the trend: New Workforce, New Workplace
We are entering a brave new world where our traditional relationship with work and leadership is changing. We need to provide a digital experience that is flexible, contextual, and free from the friction of hybrid operating models.
During this webinar you will learn how to:
​Understand the changes thrust upon us by the accelerating digital economy.
​Prepare IT to lead the change in the new digital world.
​Enable the digital institution to transition to the "next normal".
Webinar Speaker
Mark Roman
Mark Roman is an accomplished higher education Chief Information Officer with extensive experience leading large-scale information systems departments and has a consistent record of implementing significant and innovative change of the people, processes, data, and technologies for organisations.
He has led IT organisations at several universities over the past two decades including Simon Fraser University, University of Saskatchewan, University of Victoria, and Carleton University. He is an inspiring leader who has transformed information systems departments to deliver leading-edge solutions, and to elevate the value of IT for the entire organisation.
Mark has served on several boards in the higher education sector including EDUCAUSE, CUCCIO, BCNET, and SRNET. He has also run a successful IT strategy consulting firm specialising in higher education clients.
Prior to joining Info-Tech, Mark led an organization of over 400 IT staff and successfully served a stakeholder community of 250,000 people. He has administered large-scale operating and capital budgets and has transformed the full suite of core applications to new ERP systems on time, on budget, and within scope. He has delivered strategic information security changes that pushed the external security rating of the institution up by 130% in less than 4 months, improved the overall client satisfaction with information systems organisation by nearly 20% and increased the perceived value of IT to the organization by over 20%, built a national research computing data centre (16th most green data centre in the world), and implemented and the largest university supercomputer cluster in Canada (Top 100 in the world). Mark is most proud that he crafted a diverse, equitable, and inclusive culture creating one of the best higher IT teams in Canada.
Mark has an MBA from Queen's University, a B.Math (Computer Science) from the University of Waterloo, and he is a Project Management Professional. He has three children, five computers, and seven guitars, and in his remaining time, he is fascinated by military history.
---
About Info-Tech Research Group is the world's fastest-growing information technology research and advisory company, proudly serving over 30,000 IT professionals.
We produce unbiased and highly relevant research to help CIOs and IT leaders make strategic, timely, and well-informed decisions. We partner closely with IT teams to provide everything they need, from actionable tools to analyst guidance, ensuring they deliver measurable results for their organizations.
CoSN is vendor neutral and does not endorse products or services. Any mention of a specific solution is for contextual purposes.