Districts are investing significant funds in education technology solutions, but without both a plan and the tools to understand their impact – how can they ensure that these same solutions deliver value to all students and teachers? And, do so safely?
In this CoSN Solution Spotlight Webinar, one California district will share how they are modernizing their learning environments to support ongoing evaluation and continuous improvement of their edtech implementations.
Participants will learn:
-The essential elements of an edtech effectiveness system;
-How to get started with rapid-cycle evaluation;
-How to apply evidence to improve your edtech ROI.
Panelists:
Jessica Valera, District Instructional Technology Coordinator, San Mateo Union High School District
Amanda Cadran, Program Director,LearnPlatform
Moderator:
Salma Ibrahim, Director of Sales Enablement, LearnPlatform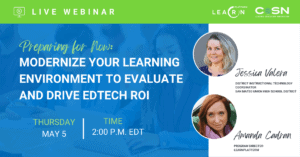 Be sure to follow us on Twitter @CoSN and LinkedIn to stay updated on CoSN webinars!