For 25 years, Serena Sacks-Mandel served as a technology supplier, consultant, and leader for Fortune 100 companies like IBM, Disney, and others, and then pivoted to a vital role in education: CIO. "I sought a role that felt truly purposeful – something that could fundamentally improve lives," said Sacks-Mandel. "That's when I found my purpose: transforming education with technology to make it more specific to each student's needs and interests." She went on to make monumental advancements in how students learn at Florida Virtual School and Fulton County Schools for the next 10 years.
Then, when the pandemic hit, Sacks-Mandel felt the need to take her impact to the next level. Learn more about her journey that has led her to become US Education Customer Success leader at Microsoft, how the pandemic has impacted education and a new age of education is on the horizon.
CoSN: You spent more than a decade as a CIO, making a major difference in your local school districts and beyond. What prompted the switch to your current role at Microsoft? 
(SSM): When the pandemic occurred, we [Fulton County Schools] were the first large district to pivot to remote – without missing a beat. When I saw other school districts and higher education institutions floundering and struggling with remote education, I knew it was time to leverage my learnings to help the industry on a larger scale.
That brought me to Microsoft – it was clear to me that they have the most comprehensive technology solutions and care the most about education. That's where I wanted to be – in the position to help K-12 and higher education institutions in the U.S. and the world.
In my role as US Education Customer Success leader, I help our customers understand and leverage deep functional benefits of products and services they own. We help them get more out of Microsoft's platforms – Azure, Teams, PowerPlatform, Dynamics, and more – and develop technical strategies and capabilities to enable their organization's strategic plans including a focus on improving student outcomes.
I'm here to help make a difference in this whole industry at a critical time when there's so much upheaval and struggle and challenge. This is the moment when we see technology as an enabler for all students to have access to quality education, to be able to realize their personal gifts and talents, and then do what they're meant to do in this world.
CoSN: What are the biggest Hurdles, Accelerators, or Tech Enablers you're seeing/experiencing for educators and technologists today? Knowing this, how is Microsoft solving challenges and improving student outcomes?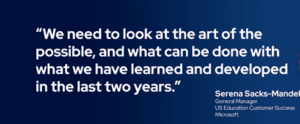 (SSM): There has been a dichotomy of Hurdles and Accelerators – the pandemic created an urgent need for student and teacher devices, collaborative digital tools, such as Teams, and highlighted the need for analytics to see how students were doing. At the same time, while instruction vacillated from in person to remote and hybrid throughout the last two years, organizations struggled to keep up with the constant change and a shortage of teachers. Just having eyeballs on students became a top priority, which dampened the appetite for innovation and enhancements that could address the challenges.
Microsoft has responded to the needs of students and educational institutions with empathy, understanding, and support. At the account level, we showed up to help, not sell. We heard from our customers that they needed to build skills, implement Teams, devices, and analytics – we delivered. On the product front, we delivered thousands of enhancements to meet the new needs, while shelving requirements that were no longer relevant. 
CoSN: How has the pandemic influenced education's Hurdles, Accelerators, and Tech Enablers?
(SSM): It has been said that the pandemic accelerated the pace of change across many industries –  the education industry is no exception. So many leaders have had their eyes opened to the possibilities, and challenges, of technology that enables education. Learning can be greatly enhanced when hybrid technologies are used well. They provide any time, any place, any pace educational opportunities for students to have agency over their progress. Students can have meaningful dialogue with teachers about their personal challenges and commitment to growth, while freeing up teachers' time to focus on human interaction.
Also, it's clearer now that the "whole child" includes their wellbeing, not just their assessment scores. Microsoft's Reflect for students and Viva for staff are just two examples of how digital tools can be used to enhance focus, engagement, and performance.
CoSN: What is next for education?
(SSM): We need to look at the art of the possible, and what can be done with what we have learned and developed in the last two years. We are on the precipice of a new age in education. If we do not seize the opportunity, a generation of the workforce could be lost. Now that technology has been introduced to the instructional community, those who best embrace and leverage the opportunities will succeed. Those who do not will be left behind – both in public and private education.
This matters to both those in the education industry and outside of it because our workforce comes from our schools – most jobs now and even more so in the future require advanced educational experiences and competencies. In addition, the students graduating using new technologies will expect this type of learning experience throughout their career. Companies must continually skill their workforce. We are all lifelong learners – our schools, our companies, and the digital ecosystem must support the individual as they progress through various life and role stages.
Author: Stephanie King
CoSN is a vendor neutral and does not endorse products or services. Any mention of a specific solution is for contextual purposes.