In line with CoSN's goal to provide thought leadership to incubate and drive innovative practices, Norton Gusky shared his experience from a visit to Hampton Township School District (PA) where they are transforming learning spaces in exciting ways with innovative partnerships.
He reflects that his visit to the Hampton School District demonstrated several key points:
Higher education can play a key role in bringing and supporting emerging technologies, such as AR or VR;
Technology is not the solution. It's a tool that enables and accelerates learning opportunities;
Effective learning solutions require partnerships with community, parent, and school groups and organizations;
Ultimately it's about the kids. They are not just the audience. They are the creators and evaluators.
Norton writes about Hampton's work with local businesses and corporations to raise money. For example, Central Elementary transformed two courtyard areas into incredible learning spaces. The school also found funding from local foundations and businesses. Today the result is a Nature and Sensory Garden and an Outdoor Learning Lab where just an outdoor garden had been until last year. Hampton tapped into its students, faculty, and staff to design the spaces. They also enlisted the assistance of two local businesses that provided technical support for the construction. The spaces were designed to provide hands-on, project-based, outdoor learning spaces aligned with the Next Generation Science Standards.

Picture: The kids on the right are working on a series of STEM (engineering) challenges. The students have to assemble these large building blocks into operational structures working with a team of fellow students.
Next, he visited the Middle School, where the principal, a former math teacher, was challenged by the superintendent to rethink a courtyard area that housed a collection of stuffed animals. The space had no real learning purpose. She reached out to her staff and students, who came up with a design for a Learning Pavilion. She enlisted the help of the Children's Museum and Carnegie Mellon University's Entertainment Technology Center. The Learning Pavilion serves the needs of all teachers and students. It's a modular construction that provides for a variety of group activities. Teachers bring their own manipulatives to the pavilion and divide their classes into working teams. In a future phase, a student team will build a hydroponics station where they'll grow basil that they'll give to the Pittsburgh Food Bank. The space also incorporates an interactive, augmented reality environment using CMU's ARCADE system to position the animations, build interactive narratives, or layer content to the real-world environment.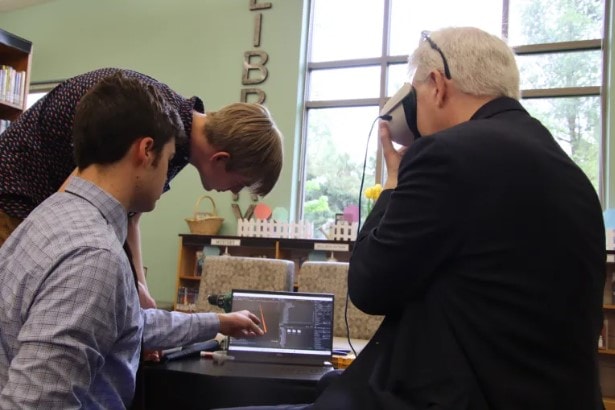 There are also various classrooms at the Middle School, including a Robotics Studio, Innovation Studio, Print Studio, TV Studio, and Learning Pavilion. Each space showcased Hampton's desire for collaborative, interactive, project-based learning. Teachers deploy Human-Centered Design activities to engage students in brainstorming ideas as well as concept building. The furniture allows students to write on the table surfaces so they can creatively share their ideas.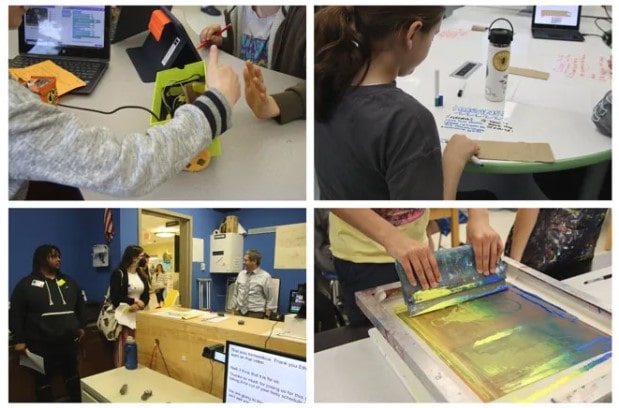 Picture: Students tap into traditional arts, such as printing, as well as technological tools such as 3-D printers, Hummingbirds, Finch, Sphero, Cosmos, and other robotic tools.
Thank you for sharing your experience with us, Norton.
Author: Norton Gusky, CoSN Emerging Technologies Committee Member
Published on:  December 8th, 2022
CoSN is vendor neutral and does not endorse products or services. Any mention of a specific solution is for contextual purposes.