Overcoming Hurdles to Be a Leader: How Dana Castine Persevered During the Pandemic & Beyond
Like other educators and IT professionals, the pandemic has been a challenging time for Dana Castine, Director of Instructional Services at Florida Union Free School District in Florida, New York. But with her innate leadership skills, she was able to provide the students, educators, and staff of her district the technology training and tools that they needed. Read on as Castine and ClassLink's National Academic Advisor Jerri Kemble share some of these tools and how they benefited Castine and her district, allowing them to be more resilient during the pandemic and take advantage of Accelerators for Innovation.
A leader during a time of need
Being a successful education leader is about providing instruction and preparing students for the future, but it's also about offering emotional support and opportunity as a mentor, not just for students but for fellow staff members, too. From the start of shutdown until the end of the 2019-20 school year, Castine offered professional learning sessions twice a day, three days a week for staff members…not because someone told her to, but because she knew that's what was needed. About 100 staff members would attend each session, both from Castine's district and a neighboring school district that was invited to join because they, too, needed support. 
During these sessions, staff were encouraged to share tips during weekly "Show and Tell," and professional learning communities naturally formed. It's opportunities like these that serve as Accelerators for educators and IT professionals: Building the Human Capacity of Leaders and caring for their Social & Emotional Learning, for example, enabling them to adapt, iterate, and innovate.
"You listened, you met them where they were, it was relevant, and just in time," said Kemble. "Leadership really matters, and I applaud Dana."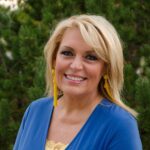 How Castine Drives Innovation
While not all students thrived with remote learning, it did work for some. "They were able to shine because they were in a setting where they felt they could grow," said Castine. "Everyone has a different way of learning." She encourages others to look at the gains that were made during remote learning and move forward with what worked, while tweaking what didn't work to make it better in the future. 
But let's innovate with grace. "Educators today are tired, they are worn out, they are doing their best to meet the needs of so many," said Castine. "I ask that everyone be kind."
As prepared for remote learning as possible
One example of Castine's skilled leadership is that she chose to use tools from ClassLink that helped her and her district thrive. Because Castine's department consisted of herself and only one other colleague, she researched and chose to use ClassLink's OneSync and OneRoster solutions, which helped automate the onboarding and offboarding of staff and students and automate rostering students, respectively.
In order to keep the district's data safe, Castine enforced a policy for district teachers to only use items on ClassLink's dashboard. Tools are designed to help, but effective deployment from forward-thinking leadership is what makes them truly valuable.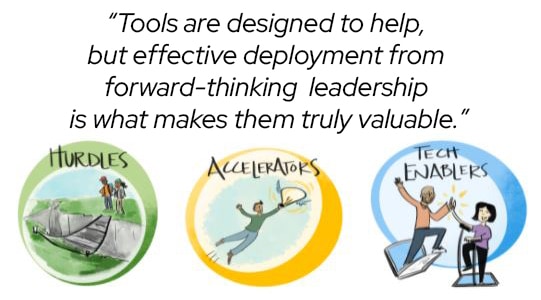 And if an online tool didn't exist, ClassLink would work with Castine to find a solution that could. "ClassLink is a class act," said Castine. "It's truly a company that I know that if we're struggling with something, we can reach out and someone is going to help us. they are always looking ahead at the next step to see what it is that we can do to help educators do what needs to be done." There's no doubt that their features helped Castine to save time, create efficiencies, and maintain data privacy during the pandemic and long after, allowing her to continue to be the thoughtful, future-forward, kind leader that she is. 
For more about the 2022 Hurdles, Accelerators, and Tech Enablers, check out CoSN's two new Driving K-12 Innovation reports for free.
-Stephanie King, Driving K12 Innovation
CoSN is a vendor neutral and does not endorse products or services. Any mention of a specific solution is for contextual purposes.