Now in its 18th year, Cybersecurity Awareness Month continues to build momentum and impact, co-led by the National Cybersecurity Alliance and the Cybersecurity and Infrastructure Agency (CISA).
As a Cybersecurity Awareness Month Champion, our team is excited to share valuable hints and tips to help schools and their communities stay safe while online because everyone has a right to safe internet. Our cybersecurity team has combed through a mountain of great cybersecurity information and compiled some of the most recommended cybersecurity tips.
Password Managers and Strong Passwords
With the help of password managers, it's never been easier to have a long, complex password for each website you use. These password managers can store unique passwords in an encrypted vault to which only you and those you designate will have access. Instead of trying to remember several long and complex passwords, you'll only need to remember one password, and the program will assist with the rest. Every other password you use can be completely random, helping to ensure that your accounts remain secure.
Multi-Factor Authentication

Multi-factor authentication (MFA), sometimes called 2-factor authentication, creates another level of security to prevent worldwide threat actors from accessing your accounts. MFA is commonly found in banking, medical, shopping, and almost any website these days. It would be best if you turned on MFA whenever available to protect yourself and your information.
Keep a Clean Machine
The military taught me to keep equipment in good working order to ensure it would function when needed, and computer systems work the same way. Software should only be installed if necessary and old applications or games on computers and phones should be uninstalled. It is also recommended to regularly update software and applications that stay on your systems to remove those security vulnerabilities that are routinely discovered.
Think Before You Click
What's the most common way for cybercriminals to get your sensitive information? It's when you click on something you shouldn't have. Malicious links in emails, texts, posts, and social media messages are a quick way for hackers to get your information. Be wary of clicking on links or downloading anything that comes from a stranger, or you were not expecting. If it sounds too good to be true, it probably is. Before you click, take the time to look for red flags that make the message suspicious.
Report Phishing
One of the best ways to take down cybercriminals is by reporting phishing attempts; nowadays, it's easier than ever. Most email programs and social media platforms allow you to report phishing attempts. If the email came to your work email address, report it to your IT manager or security team as quickly as possible. If you're at home and the email came to your personal email address, do not click on any links (even the unsubscribe link) or reply to the email. But don't keep that phishing message around – delete it ASAP. You can further protect yourself by blocking the sender from your email program, social media platform, or phone.
Use Secure Wi-Fi
Limit what you do on public Wi-Fi. Public wireless networks and hotspots are unsecured, meaning anyone could see what you are doing on your laptop or smartphone while you are connected to them. Especially avoid logging in to key accounts like email and financial services. Consider using a reputable virtual private network (VPN) or a personal/mobile hotspot if you need a more secure connection.
Back-Up Important Data
The best way to protect your valuable work, music, photos, data, and other digital information is to make copies and store them safely. Storing information to a cloud service and your local hard drive can help ensure that you can still access the data, even if it is corrupted by a threat actor or other physical disaster.
Additional Tips for Parents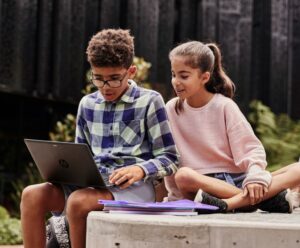 As a parent of two school-age children and a cybersecurity professional, I'm always interested in learning about and sharing great information, specifically about protecting children online. Below are some of the best tips and hints I've learned through years of training.
The most common advice to keep your children safe that I've heard from sources such as the FBI, police, and other organizations are to talk with your children. Children should know they can come to you with important information or questions regarding online or other activities. Keeping a calm demeanor when your children share information with you will help keep the communication lines open.
Find out what games or applications they use. Review the applications and games on their systems and ask them to show you what they do. Research and know which applications you may not want them to use. You can often prevent children from downloading applications without parental permission. Playing the game with your kid can help parents to understand what their children are doing and can be a good way to spend quality time together.
Discuss time limits. What times should children be using electronics, and how long should they be on them? Most bad things that happen online happen at night. One option is to have a charging station in the parent's bedroom to plug in all electronics at night and ensure the children don't get them back until the morning.
Make sure your children know who it is okay to play online games with.
Help your children understand why it is essential to not share personal information, like addresses, schools, plans for the weekend, etc. If a stranger asks you to share this information, say no.
Know how to deal with inappropriate online behavior by another person. Please keep a record of what the other person said, but do not engage them. You may be able to block the player or notify the game's publisher or online service.
Another good idea is to keep the computer or game system in a common area. That opens the door to asking questions and having conversations on the spot.
Lastly, freeze your child's credit. Parents and guardians can now freeze the credit for children younger than 16 to stop scammers from creating credit accounts in their names.
Author: James Costello, CISSP
Technology Security Specialist
Cypress-Fairbanks ISD (TX)
Published on: Oct 11th, 2022
CoSN is vendor neutral and does not endorse products or services. Any mention of a specific solution is for contextual purposes.