Presented by Matthew Friedman, Ed.D., Superintendent of Schools, Quakertown Community School District (PA); Kelly May-Vollmar, Ed.D., Superintendent, Desert Sands Unified School District (CA); David Miyashiro, Ed.D., Superintendent, Cajon Valley Union School District (CA); and Pete Just, CETL, Executive Director, Indiana CTO Council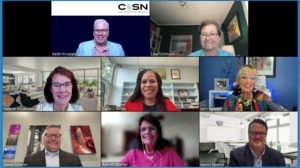 Moderated by Ann McMullan, Project Director, CoSN/AASA EmpowerED Superintendents Initiative, CoSN (Consortium for School Networking)
This edLeader Panel series is presented by CoSN and AASA.
Sponsored by ClassLink
Learn more about viewing the live presentation and the recording, earning your CE certificate, and using our new accessibility features. This program may qualify for CoSN CETL® Recertification.
The challenges and opportunities involving Artificial Intelligence (AI) hit the education world by storm in the spring of 2023. In this edLeader Panel, three leading-edge, innovative superintendents are joined by the Executive Director of the Indiana CTO Council and former CoSN Board Chair to share their experiences and guidance on navigating the positive and effective uses of AI and generative AI (i.e., ChatGPT) within K-12 school settings. Seven essential guidelines recommended for school superintendents and school leaders when implementing actionable steps and policies around AI and generative AI are described.
Viewers come to understand AI's potential for good within K-12 education systems along with the myths and fears that have arisen in recent months. Access to free resources that clearly define how best to leverage AI and generative AI applications like ChatGPT within school settings are shared.
This recorded edLeader Panel is of particular value to superintendents, K-12 school and district leaders, and aspiring school leaders.
About the Presenters
Dr. Matthew Friedman currently serves as the Superintendent of Schools in the Quakertown Community School District in Pennsylvania. He has over 25 years of experience in public education and has spent the last 19 years in administrative/leadership roles, including middle school assistant principal, director of curriculum, chief academic officer, assistant superintendent, and superintendent. Dr. Friedman has extensive experience in post-secondary education, teaching at both the undergraduate and graduate levels, and serving as a dissertation chair in the graduate school of education. Recognized as a visionary leader and educational innovator, he frequently provides educational consulting services on a national level. In his work, Dr. Friedman is passionate about creating learning environments that foster transformation, designing innovative learning experiences for all learners, curating personalized professional learning opportunities for teachers and administrators, and community building within schools/districts.
Dr. Kelly May-Vollmar is the proud Superintendent of Desert Sands Unified School District, California. Dr. May-Vollmar has served as Assistant Superintendent of Educational and Technology Services in Desert Sands since 2019. Over the past 18 years, she has served in various roles, including elementary school principal, academic coach and IB coordinator, and classroom teacher. Dr. May-Vollmar was recognized as the Association of California School Administrator (ACSA) Technology Administrator of the Year in 2019 and was instrumental in the district's innovative LTE network build project, which provided equitable broadband connectivity to students throughout the district's 752-square-mile attendance zone. She is actively involved in several professional organizations including serving on the board of directors for the Consortium for School Networking (CoSN). She received her doctorate in organizational leadership from the University of LaVerne. Her master's degree in teaching is from Chapman University where she also earned her undergraduate degree.
Dr. David Miyashiro is Superintendent of Cajon Valley Union School District, California. He is a forward-thinking education leader skilled at creating and sustaining a culture of trust and innovation with a 25-year career successfully modernizing learning approaches, education models, and school district capabilities in Southern California. As a digital pioneer, he has navigated districts into the high-tech era, delivering numerous innovation "firsts," for which he has garnered professional honors. Those include Superintendent of the Year, acceptance into the League of Innovative Schools (Digital Promise), and K-12 Dive's 2022 District of the Year. Districts under his leadership have also won awards, such as the California School Boards Association's Golden Bell Award, the National School Boards Association's Magna Award for Digital Learning, and the California Distinguished Schools Award. Dr. Miyashiro has a doctorate in educational leadership and policy from UCLA, his master's in education technology and curriculum from Grand Canyon University, and bachelor's from Cal State Long Beach.
Pete Just, CETL serves as the Executive Director of the Indiana CTO Council. He retired in 2022 as CTO and COO MSD of Wayne Township after 24 years leading their IT and facilities efforts. Starting out as a teacher, he began using technology to expand learning and has been deep in digital innovation ever since. His integration efforts focus on developing technical innovations to provide students greater success in life. Pete served on the Consortium for School Networking (CoSN) Board from 2014 to 2023 and served as board chair. He chairs the IDOE K12 Cybersecurity Task Force and is CoSN's AI Subject Matter Expert (SME). Pete's numerous presentations at the state and national levels promote innovative initiatives and honest lessons learned. He has served as an adjunct professor for Indiana University School of Education grad school and desires to empower EdTech leaders with the resources needed to lead well in their own school systems.
About the Host
Ann McMullan is Project Director for CoSN's EmpowerED Superintendents Initiative, created in partnership with AASA, The School Superintendents Association. Ann served as Executive Director for Educational Technology in Klein ISD, near Houston, Texas until September 2013, when she and her family moved to Los Angeles, California. For 16 years Ann led the district team that provided professional development on technology and 21st century instructional strategies to 4,000 educators serving 50,000 students. She was co-chair of the Texas Education Technology Advisory Committee which developed the Texas Long Range Plan for Technology.
Today, Ann works as a public speaker, writer, and consultant focused on leadership to meet the needs of today's students. Ann serves on edWeb.net's Advisory Board, ClassLink's Senior Advisors Group, and ERDI's Ed Leadership Council. She also volunteers as a leadership consultant for the Executive Service Corps of Southern California, serving non-profit associations. Ann is co-author of Life Lessons in Leadership.
Learn more about viewing the live presentation and the recording, earning your CE certificate, and using our new accessibility features.
Join the Super-Connected community to network with educators, participate in online discussions, receive invitations to upcoming edWebinars, and view recordings of previous programs to earn CE certificates.
---
AASA is the premier association for school system leaders and serves as the national voice for public education and district leadership on Capitol Hill.
CoSN (the Consortium for School Networking) is the premier professional association for school system technology leaders. CoSN provides thought leadership resources, community, best practices and advocacy tools to help leaders succeed in the digital transformation. CoSN represents over 13 million students in school districts nationwide and continues to grow as a powerful and influential voice in K-12 education.
ClassLink is a global education provider of identity and analytics products that create more time for learning and help schools better understand digital engagement. As leading advocates for open data standards, we offer instant access to apps and files with single sign-on, streamline class rostering, automate account provisioning, and provide actionable analytics. ClassLink empowers 19 million students and staff in over 2,500 school systems. Visit classlink.com to learn more.