Digital equity is a constant and challenging issue of our times. CoSN annually awards a school district with the association's Community Leadership Award for Digital Equity to honor and recognize those districts that are working to eliminate inequities and narrow the gap when it comes to digital access. Corpus Christi ISD in Texas is the recipient of CoSN's 2023 Community Leadership Award for Digital Equity.
In this edWeb podcast, the superintendent of Corpus Christi ISD is joined by the district's director of instructional technology and director of technology services as featured guest panelists. The district leaders share the strategies they use to lead their work across their district to assure a safe and effective digital landscape for all their students. The district's Tech2Teach conference and digital magazine, which are used to showcase truly transformative learning, are two of the multiple approaches for leveraging technology innovation that are shared. CoSN's director of professional learning also joins the panel to share CoSN professional learning resources and recommendations for addressing digital equity.
This edWeb podcast is of high value to superintendents, PreK-12 school and district leaders, aspiring school leaders, chief technology officers, and other information technology education leaders.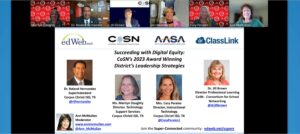 Presented by Dr. Roland Hernandez, Superintendent, Corpus Christi Independent School District (TX); Marilyn Doughty, Director, Technology Support Services, Corpus Christi Independent School District (TX); Cary Perales, Director of Instructional Technology, Corpus Christi Independent School District (TX); and Dr. Jill Brown, Director of Professional Learning, CoSN (Consortium for School Networking)
Moderated by Ann McMullan, Project Director, CoSN (Consortium for School Networking) EmpowerED Superintendents Initiative
This edLeader Panel series is presented by CoSN and AASA. Sponsored by ClassLink
Download to learn more…