Excitement, hype, fear, anxiety — what words come to mind when you think of generative artificial intelligence (AI)? In just 11 months, the widespread adoption of generative AI has wedged itself into daily conversations across topics and fields, including K-12 education. 
CoSN's EdTech Innovation Committee (formerly the Emerging Technologies Committee) is dedicated to developing resources for members on emerging technologies that have the potential to significantly impact K-12 education. Needless to say, the committee has been spending time discussing generative AI, drafting blogs around the topic, and designing future resources to help fellow educators and technologists navigate this new frontier.
At the committee's most recent meeting, they discussed advice to help make AI and AI tools less scary to education leaders, staff, and students. "It can be pretty daunting for some users who aren't early adopters to jump in and try things out, and then also learn how to best leverage generative AI," said committee co-chair Dave Jarboe (D2 Harrison Schools, Colorado). Read on for three concrete tips to implement in your school system now.
Play & Inform While Maintaining Privacy
First and foremost, it's important to make sure that AI applications' privacy policies are appropriate for the school and district, explained committee member Kathleen Stephany (Oshkosh Area School District, Wisconsin). She encouraged others to play and experiment with the tools to learn about them while brainstorming ways  AI can fit into their curriculum. 
Committee member Mark Leslie (Richland School District One, South Carolina) added that teachers must be informed on what they need to know about AI apps and tools so that it doesn't seem like such a spooky thing. Fellow committee member Katie Harmon (Westhill CSD, New York) shared that it's been valuable to host impromptu, informal discussions with teachers and staff to talk about why [generative AI]. These discussions early on transitioned into a summer series in which the group delved into using generative AI and providing support and time for people to try it out.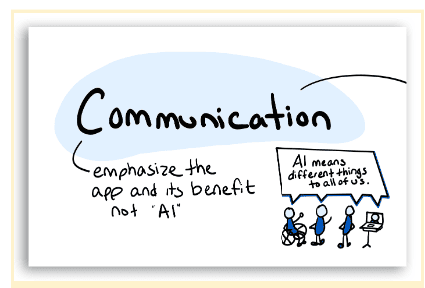 Clear Communication
Committee co-chair Stacy Hawthorne (Learn21, Ohio) highlighted wise advice from committee member Ron Pleasant (Muscogee County School District, Georgia): Don't emphasize the term "AI"; instead, mention the app that you're trying to get people to work with and the benefit that it will provide. Why? We're usually not scared of apps and when we use the term "AI" people bring their own definitions, which could get in the way of having authentic conversations about the app itself.
When communicating about AI in education, it's important to recognize that it can be intimidating for more than just those who are present at schools daily. Consider sharing resources and hosting focus groups with parents and school board members so that they are educated and knowledgeable, as well. 
Pilot & Model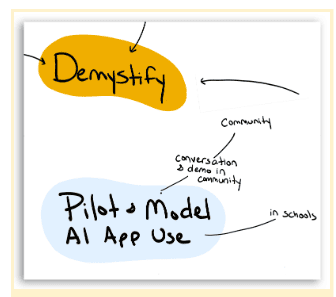 When it comes to making AI less scary, consider a show and tell model. "We as tech directors and staff need to pilot apps ourselves to get comfortable with [generative AI apps]," said committee member Doug Couture (South Windsor Public Schools, Connecticut). He encourages others to read as much as possible to become more familiar with what's available, and then recommends inviting a select group of teachers to pilot the apps so that they can become evangelists and carry the message to the rest of the staff as early adopters. 
Helpful resources:
AUTHOR: Stephanie King, Writer and Communications Manager, CoSN's EdTech Innovations Committee and Driving K-12 Innovation
Published on: October 31, 2023
CoSN is vendor neutral and does not endorse products or services. Any mention of a specific solution is for contextual purposes.