Year
2023



Award Winners
2023: Berkeley County School District (SC)
2022: Wake County Public School System (NC)
2021: Fort Thomas Independent Schools (KY)
2020: Wilson County Schools (TN)
2019: Hampton Township School District (PA)
2018: St. Vrain Valley School District (CO)
2017: Meriden Public Schools (CT) and Socorro ISD (TX)
2015: Henrico County Public Schools, VA
2014: Kent School District, WA
2013: Mooresville Graded School District, NC
2012: Katy ISD, TX
2011: Cullman City Schools, AL
2010: Irving ISD, TX
2009: North Kansas City Schools, KS
2008: Bryan Independent School District, TX
2007: Kiel Area School District, WI
2006: Perquimans County Schools, NC
2005: School District of Hudson, WI
2004: Montgomery County Public Schools, MD
This award honors a district leadership team for its transformative impact on student learning with technology.
Process
Nominate an exemplary leadership team—or self-nominate. CoSN's Awards committee will review all nominations and notify the winner in January. The winning team will then be publicly honored at the CoSN Annual Conference. In addition to our congratulations, the team receives four complimentary conference registrations, a $2,000 honorarium, and media coverage. 
The winning team will be selected based on its community-building initiatives, innovation inside and outside of the classroom, sizeable impact, and partnership development.
2023 Award Winner: District Team Leadership Award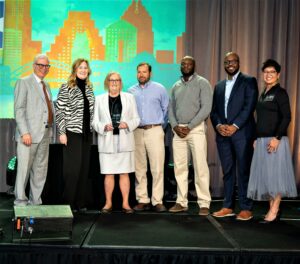 Berkeley County School District (SC)
We love how they have focused on digital equity and particularly their Innovative Technology on Wheels (iTOW) vehicle t to increase access and equity for students.
Watch this VIDEO describing their efforts.