Through CoSN's Driving K-12 Innovation project, educators and IT professionals from around the world share their global perspectives on the top Hurdles (barriers), Accelerators (mega-trends), and Tech Enablers that are driving innovation in school systems.
The work of the international Advisory Board – which includes an initial survey, live and online discussions, and a final survey – culminates with Driving K-12 Innovation's annual virtual Summit. Held on Wednesday, February 1, the 2023 Driving K-12 Innovation Summit amplified the voices of Advisory Board members who are making a difference in students' lives daily.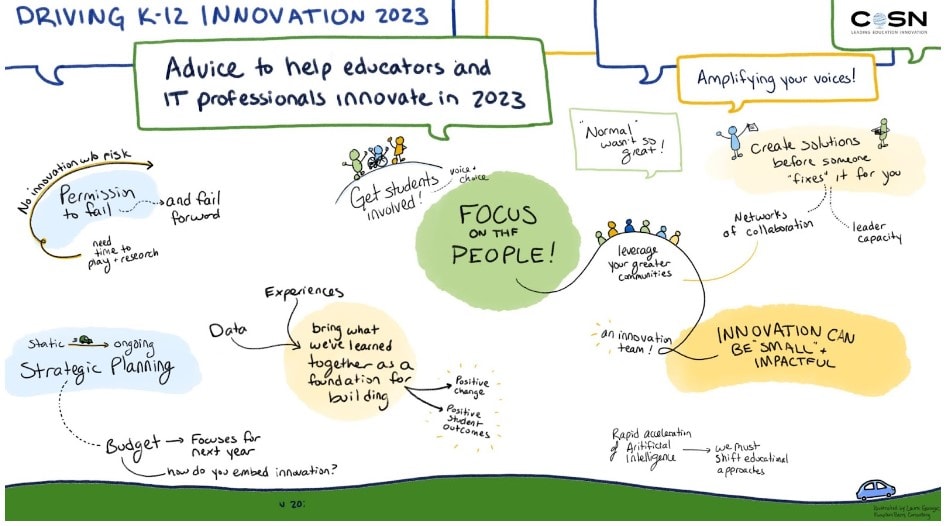 CoSN's CEO Keith Krueger joined the Summit to share how driving innovation is one of CoSN's strategic initiatives, and this project is the centerpiece of this work. "We believe that innovation is not bound by the Atlantic or Pacific Oceans," said Krueger. "We're excited to have a group of 100 leaders from around the world help us each year to give their thoughts about their consensus of what are the most important things for innovation that we should be focusing on." He went on to explain that these reports don't have "the answers" for driving innovation in your school district, but are intended to spark a conversation to help determine what you should consider when innovating in your school system. 
For this year's Summit, Advisory Board members were invited to take part in a fun and challenging activity: to define, in 5 seconds and then again in 20 seconds, the Top Topics that were voted most important for the coming year. They also shared case studies and tips for each topic. Watch the full Summit recording now!
Special thanks to all who shared definitions and case studies:

HURDLES
Attracting & Retaining Educators and IT Professionals

Sandra Paul, Township of Union Public Schools, U.S. (case study)
Designing Effective Digital Ecosystems
Kim Flintoff, Peter Carnley, ACS, Australia (definition)

Claus Gregersen, Herning Gymnasium, Denmark (case study)
Digital Equity
Lisa Gustinelli, St. Vincent Ferrer School, U.S. (case study) and NAME (case study, courtesy of ClassLink) 
ACCELERATORS
Building the Human Capacity of Leaders
Gaby Richard-Harrington (definition)

Kelly May-Vollmar, Ed.D., Desert Sands Unified School District, U.S. (case study)
Learner Agency
Marie Bjerede, E-mergents, U.S. (deep dive)
Social & Emotional Learning
Øystein Johannessen, County Governor of Trøndelag, Norway (case study)
TECH ENABLERS
Artificial Intelligence
J

ason Zagami, Griffith University, Australia & Michael Lambert, True North School, Vietnam (case studies)

Arjana Blazic, EduDigiCon, Croatia (case study)
Untethered Broadband & Connectivity
Michael Flood, Kajeet, U.S. (definition)

Norton Gusky, NLG Consulting, LLC, U.S. (case study)
Rich Digital Ecosystem
Richard Platts (definition)
Additionally, in true Driving K-12 Innovation fashion, attendees had the opportunity to break into smaller groups to connect with other educators and discuss:
What concrete steps could educators take now to leverage Tech Enablers, overcome Hurdles, or take advantage of Accelerators?
What advice would you give to educators and IT professions to help them innovate in 2023?
Our thanks to the following facilitators of our Summit breakout rooms: Jerri Kemble, ClassLink, U.S.; Michael Flood, Kajeet, U.S.; Monica Cougan, ENA, U.S.; Betty Garcia-Hill, HP, U.S.; and Jason Zagami, Griffith University, Australia.
This year's Driving K-12 Innovation reports are available now! Free download: Driving K-12 Innovation Reports: 2023 Hurdles + Accelerators and Tech Enablers (Currently available in English or Chinese)
Visit the Driving K-12 Innovation project webpage to get your digital copies of this year's reports and to find out more about the initiative.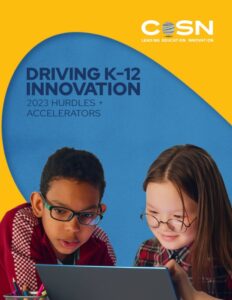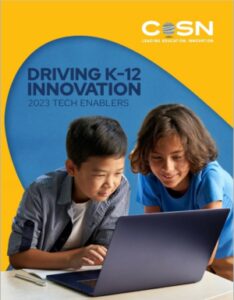 CoSN would like to thank everyone who helped make these publications and Summits possible, including our Sponsors; Supporting Organizations; Advisory Board; Laura Geringer, Project Director and Graphic Facilitator for the Summit; Stephanie King, Writer and Communications Manager; Karina Branson, Graphic Facilitator; and design/layout teams UP Creative and Studio WAC.
AUTHOR: Stephanie King, Writer and Communications Manager, CoSN's Driving K-12 Innovation Initiative
Published on: April 11, 2023
CoSN is vendor neutral and does not endorse products or services. Any mention of a specific solution is for contextual purposes.