Details
Date:

January 19

Time:

1:00 pm - 2:00 pm

Event Category:

Event Tags:

Website:
Education meets the universe: The promise and the worry (Free Member Webinar)
Formerly titled: Metaverse
Brought to you by CoSN's Emerging Technologies Committee.
January 19th, 2023 1:00-2:00 PM ET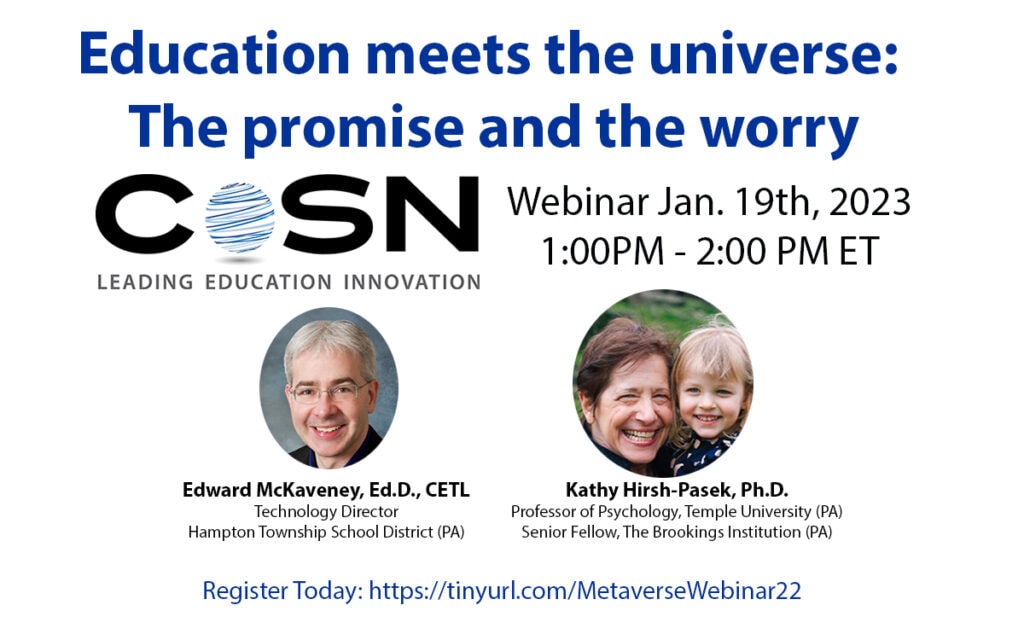 Everyone is talking about the metaverse. Its diverse applications include gaming, real estate and entertainment among others. Few are addressing how this relatively new technology might impact education for good or for bad. The metaverse can bring us to new worlds that would rarely or never be personally explored – from ancient Greece, to underwater adventures, to outer space. But crafting these experiences in ways that are educationally sound requires intentionality and inclusion of the latest science on how and what children need to learn. This talk brings the science together with the technology to offer a framework for educational sound development of the metaverse.
*Everyone who registers for the event will receive a link to the recording.
Kathy Hirsh-Pasek, Ph.D.
Kathy Hirsh-Pasek, a Professor of Psychology at Temple University and a senior fellow at the Brookings Institution was declared a "scientific entrepreneur," from the American Association of Psychology. Writing 16 books and 250+ publications, she served as President of the International Congress for Infant Studies and was on the Governing Board of the Society for Research in Child Development and is on the board of Zero to Three. Her Einstein Never Used Flashcards won the Book for a Better Life Award in 2003 with her Becoming Brilliant (2016) reaching the NYTimes Best Sellers List in education. Her newest book Making Schools Work came out in November of 2022. Hirsh-Pasek won awards from every psychological and educational society for her basic science and translational work designed to bridge basic science and educational impact. A founding member of the Latin American School for Educational and Cognitive Neuroscience, she spearheaded a global network of scientists devoted to educational science. Co-founder of the global Learning Science Exchange Fellowship, she brings together scientists, journalists, policy makers and entertainers, to put learning science in the hands of educators. In 2021, she was elected as a member of the National Academy of Education. Her initiative Playful Learning Landscapes re-imagines cities and public squares as places with science infused designs that enhance academic and social opportunities. Hirsh-Pasek frequently comments for the press (e.g. NPR, NYT) and blogs for the Brookings Institution.
Edward McKaveney, Ed.D., CETL 
Having worked with education/information technologies, media and security in higher education and K-12 for more than 25-years, I have been continuously focused on the advancement of student learning, faculty development and operational success through the innovative use of technologies. As a former educational computing consultant and manager of media services at Duquesne University, I have worked as Technology Director for the award-winning Hampton Township School District since 2004, where I lead the technology team in support of the District's primary mission, which is to work collaboratively with the community in support of every child becoming creative and innovative problem-solvers and communicators. In addition to my Technology Director role, I have been fortunate to participate in several CoSN International delegations, where I have had the opportunity to visit schools and engage education leaders from around the world in high level discussions exploring innovative teaching and learning as the organization looks at global leadership, policies and practices in combination with the strategic use of Information Communication Technologies in education. In addition to volunteering with the Pittsburgh Infragard chapter and FBI Pittsburgh Citizens Academy Alumni Association, I am a national CoSN CETL course facilitator and serve on the CoSN Cybersecurity committee and Driving K-12 Innovation advisory board. I have been fortunate to receive recognitions for our team's innovative work, which include 2019 National CoSN Team Leadership Award, 2013 National CoSN Withrow CTO of the Year, 2013 PAECT Outstanding Leader of the Year (Pennsylvania's ISTE award), 2012 Pittsburgh FBI/Infragard Champion of Change, and a 2015/2017 Finalist for the Pittsburgh Technology Council Education sector CIO of the Year. A PA Certified Instructional Technology Specialist and CoSN Certified Educational Technology Leader (CETL), I have a B.S. in Biology, M.S. in Multimedia Technology, and a doctorate in Educational Leadership and Management where my organizational change research investigated the effect of implementing instructional coaching with digital learning on high school math and science.
Participants who attend our webinars live earn 1 CoSN CEA Credit toward CETL® recertification.