CoSN is pleased to offer the first-ever education technology leader project management course that focuses on the unique needs and challenges of school system technology leaders. Using thought leadership resources and best practices, this course is aligned to CoSN's Framework of Essential Skills for the K-12 Chief Technology Officer (CTO), the foundation for the nationally-accredited Certified Education Technology Leader (CETL) Program. Its structure and content are also based on the Project Management Institute's A Guide to the Project Management Body of Knowledge (PMBOK® Guide) – Sixth Edition – a global industry standard for project management and the most widely recognized project management model for business and government.
This seven-week course provides participants with high-quality, practical and wide-ranging protocols and resources that empower responsive and scalable project management practices. Course content references effective methodologies rooted in research and correlated to the K-12 environment through a practical lens.
Course meets April 18th – May 30th, 2023
All *classes are Tuesdays 2:00 – 3:30 ET
*All class sessions are recorded.
Note: Registration remains open for two weeks past the start date of the course, because participants are able to catch up during this time period.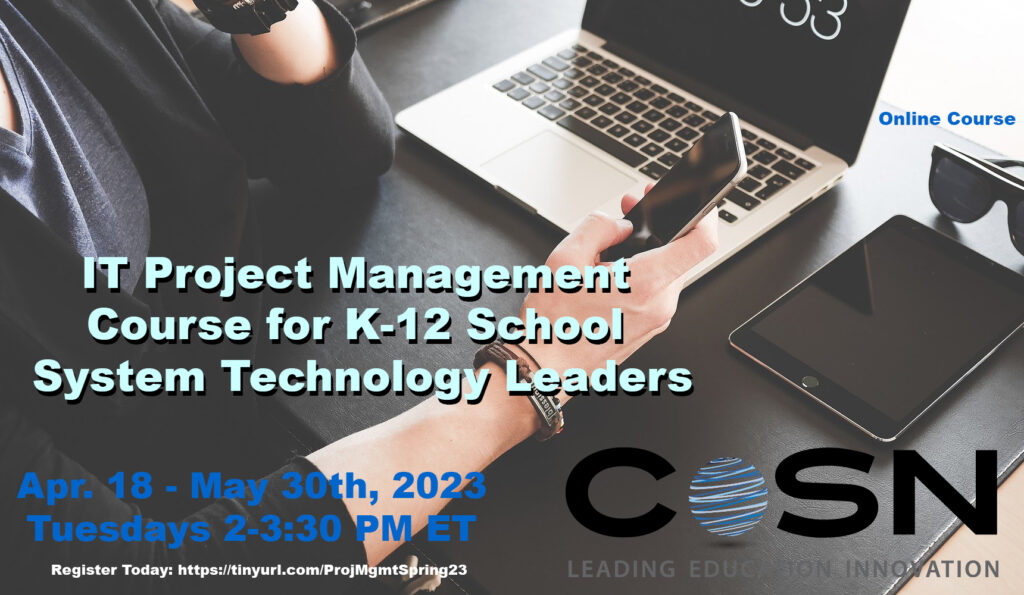 Participants will learn the fundamentals of project management through seven modules:
Module 1: Introduction
Module 2: Project Initiation
Module 3: Scope, Schedule and Budget Plan
Module 4: Resource, Risk and Procurement Plan
Module 5: Leadership and Quality Management
Module 6: Monitor and Control
Module 7: Closing and Success
Participants successfully completing the course will receive a Certificate of Completion, earn 9 CEA Credits toward CETL® recertification and have access to the course materials for one full year.
This course is regularly updated with current information by co-instructors Frankie Jackson and Cory Stokes. Read more about Frankie here.  Read more about Cory here.
Early Bird pricing – Educator: Members $549 Non-Members $749; Corporate: Members: $749 Non-Members $949
Standard pricing (2 weeks before the course begins) – Educator: Members $599 Non-Members $799; Corporate: Members: $799 Non-Members $999
Bulk pricing for same organization registration – 2-4 10% discount, 5-10 15% discount, 11+ 25% discount
*If you want to buy several professional development courses or workshops at the same time for use throughout the year, please contact jbrown@cosn.org for options.
Payment is due within 14 days of the start of the course. We understand some districts take longer to provide payment, so if you need an extension, please contact jbrown@cosn.org.
Be sure to follow us on Twitter @CoSN and LinkedIn to stay updated on CoSN events!
9 CEA Credits toward CETL® recertification.