Protecting Privacy: Improving Your Practice Facilitated Online Course Spring 2022
Meets online every *Wednesday from 1:00 PM-2:00 PM ET January 19th – March 9th, 2022.
*Sessions are recorded if you are unable to attend on a particular day.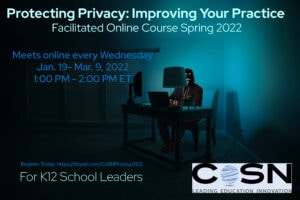 The 8-week class will focus on the implementation of your school system's student data polices and takes a deep dive into securing your network and developing a data governance plan. Candidates who aspire to achieve the TLE will gain tools and resources to prepare for your Trusted Learning Environment application.
Since 1992, the Consortium for School Networking (CoSN) has been working with education technology leaders to develop practical resources that help school technology decision-makers provide the kind of leadership their School Systems need so that students can experience technology-rich learning environments.
Laws are changing, and the conversations around student privacy are evolving daily. Because of the complexities involved, stakeholders come to the discussion from different perspectives and, therefore, sequence content in various ways. This introductory course is intended as professional development for School System leaders—not legal advice. Considering the highly technical nature of privacy laws and policies, school leaders should always seek the advice of legal counsel regarding such issues. Please see the disclaimer below.
Participants successfully completing the course will receive a Certificate of Completion, earn 9 CEA Credits toward CETL® recertification and have access to the course materials for one full year.
This course is regularly updated with current information by our subject matter expert and instructor, Melissa Tebbenkamp. Read more about Melissa here.
Early Bird pricing – Educator: Members $549 Non-Members $749; Corporate: Members: $749 Non-Members $949
Standard pricing (2 weeks before the course begins) – Educator: Members $599 Non-Members $799; Corporate: Members: $799 Non-Members $999
Bulk pricing for same organization registration – 2-4 10% discount, 5-10 15% discount, 11+ 25% discount
*If you want to buy several professional development courses or workshops at the same time for use throughout the year, please contact jbrown@cosn.org for options.
Payment is due within 14 days of the start of the course. We understand some districts take longer to provide payment, so if you need an extension, please contact jbrown@cosn.org.
Be sure to follow us on Twitter @CoSN and LinkedIn to stay updated on CoSN events!