What is the K12 risk and opportunity in Generative AI that's become so common so fast? Educators need to understand and respond to the rise of this technology changing assumptions on everything from assignment completion to the future of work. Bill Gates christened it as "the most important advance in technology since the graphical user interface."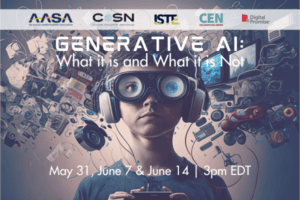 Explore how we help our members harness the opportunities while mitigating the risk of Generative AI.
MODERATOR
David Schuler, moderator, executive director, AASA; former superintendent, High School District 214, IL
PRESENTERS
Pete Just, Just Strategics, president, former chief technology officer, Wayne Township, Indianapolis, IN; former CoSN board president
Joseph South, ISTE, chief learning officer, former director of the office of educational technology at USDOE
Marci Price, ISTE, senior director, Strategic Partnerships
Registration can be found in the CoSN Network.